"Extreme Perspectives" by Alexander Buisse – an e-book review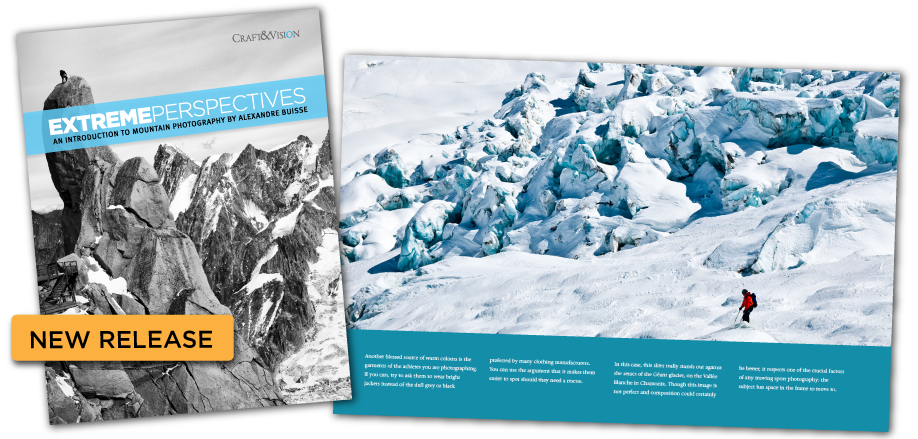 The Craft & Vision released a new e-book yesterday. "Extreme perspectives. An introduction to mountain photography" by Alexander Buisse adds another topic to already broad collection of tips and techniques for different types of photography. As title suggests, the e-book talks about climbing and mountaineering, but many of the tips can be easily applied to other photography genres, especially in extreme sports and adventure. The "Extreme perspectives" consists of three parts, talking about gear, vision, and discussion of example images. The first chapter about gear will probably be a surprise for many gear geeks. But author explains his choices by saying that gear just needs to be "good enough". Another great tip from the chapter about the vision is finding the balance between the great photograph and photographer safety and subject comfort at being photographed under particular circumstances. I think this advice is very general, and can and should be applied to many other types of photography as well. The last, third chapter is all about images. Twenty two of author's own examples of adventure photography are showcased in this chapter. They are discussed in detail, what works and what could be improved. This chapter is full of tips and techniques on composition, perspective, enriching image with weather or color elements. And the photographs are really breathtaking. The vastness of the landscapes and dramatic angles can make acrophobic person feel uneasy at times. Two of my favorites are the red Cessna Skywagon bush plane in mountains of Alaska and the headlamp trails on the way to Mont Blanc. Overall all, the "Extreme perspectives" is an interesting read, worth spending those few dollars.
The "Extreme perspectives" can be downloaded for just $5 from Craft and Vision website. But if you make your purchase by the end of Sunday, May 15, 2011 (11:59 pm PST) and use code EXTREME4 at checkout, you will pay only $4 for this e-book. You can also purchase any five e-books from Craft and Vision collection, and 20% discount by using the code EXTREME20. So don't wait to long. Go and explore this e-book along with black and white photography e-books by Andrew Gibson and Piet Van den Eynde, landscape photography post-processing tips by Michael Fry, winter photography by Darwin Wiggett and many, many more.

Disclaimer – some links in this post are affiliate links.