I love reading. It doesn't matter if these are real, hardcopy books or e-books, if these are mysteries or photography related- I can read it all. With access to reduced pricing or even free e-books through my membership in several affiliate programs, I can now read a lot of e-books. The reviews on this blog are here to help you solve your photographic issues or answer your phptography questions. You can pick just the right e-book for you for any stage of your photography. Do you want to use Lightroom more efficiently? Light a portrait? Do a better black and white conversion? Just searh through the titles and descriptions below to find the one you need right now.
- Craft and Vision Library
- Digital Photography School Library
- Flatbooks
"Craft & Vision" free e-book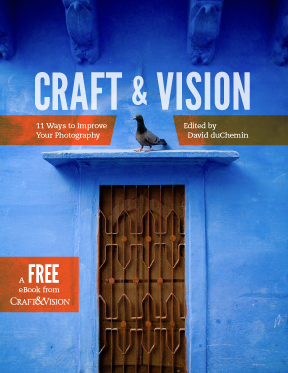 The e-book is a team work of almost all the authors who have (or will in near future) written an e-book for Craft & Vision. In a series of 11 short essays, each of them shares their tips on a single subject related to the photographic process. It is an interesting mixture of technical, compositional and finishing steps, as well some more general thoughts. In moments, it feels like some of the authors exchanged subjects with each other, or complement somebody else's previously released e-book. And yet, there is no repetition, just added unique perspective. Read more or click here to download.
"eyePhone" by Al Smith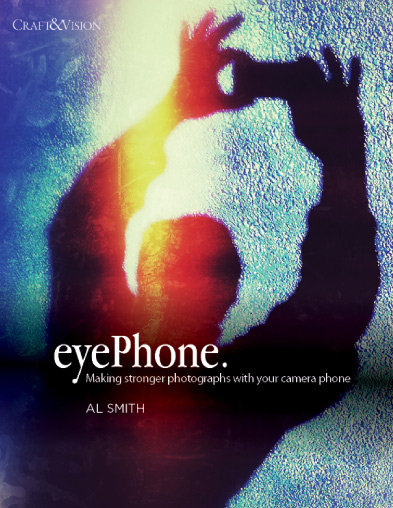 "eyePhone" is based on the very popular iPhone photography classes Al Smith is teaching. On 45 pages, he is trying to convince us that mobile phones are not only great for every day shooting, but also an exciting artistic tool. The e-book is a great primer for new iPhone owners with a photographic interest. Learning the basics, such as understanding the camera, achieving proper exposure, focus and sharpness, are as important here as for dSLR. I am also sure, if they like Instagram or don't care for it at all, the veterans of mobile phone camera shooting will find a tip or an app suggestion for themselves among limitless resources in this e-book. Read more or click here to buy.
"Vision in motion" by Trevor Meier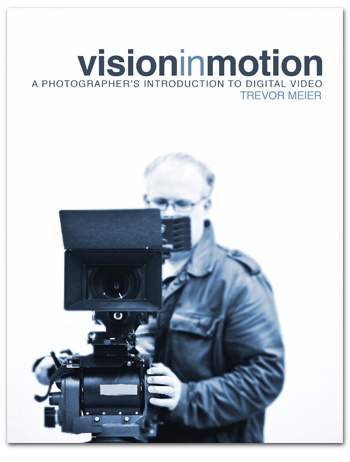 On only 20 pages of "Vision in Motion", Trevor Meier skillfully summarizes the most important points in building a good movie. The book is well organized, and divided in three chapters, Story, Sequence, and Technique, each loaded with practical information and tips to get you started. The familiar to still picture professionals topics, like exposure control or focus, are discussed in a new way and attention is directed on how they differ when shooting video. The author also mentions things photographers normally don't need to worry about, like recording sound, and gives advice on necessary equipment and accessories. It is a great book to get you started on recording your first digital video. Read more or click here to buy.
"Great light, easy light" by Kevin Clark
"Great light, easy light. Stobe Techniques That Don't Look Lit." by Kevin Clark is certainly not an e-book which will make you the master of studio lighting. The author took a hands-on, practical approach. This concise, just 32 double-page spreads e-book contains a series of ready-to-go recipes to get you started on portraiture using one, two or more lights. And several light modifiers. So, if you would like to gain control over your portraiture light without having to understand lighting ratios and other complicated terms, the "Great light, easy light" is just for you. Read more or click here to buy.
"Growing the Visionmonger" by Corwin Hiebert
Not all photographers are at the stage that they need a full time manager. Corwin Hiebert is manager to such known and successful photographers as David DuChemin, Kevin Clark and Dave Dalnea, so his advice on getting mundane business tasks done more efficiently has a lot of weight.
The e-book is in a form of 10 chapters, each tackling just one idea. "Action Points" at the end of each chapter are things to do to put the particular idea in life, and there are different ones for those just supplementing their income by their photography and those doing it professionally. Very practical and useful, short e-book is well worth the price. Read more or click here to buy.
"Your Creative Mix" by Corwin Hiebert
"Your Creative Mix" talks about re-claiming back and keeping afloat your inspiration. It is written for people earning money on their creativity. If you are spending all your time pursuing projects for your clients and studying portfolios of your competitors, regardless if photography is your day or weekend job, take some time off to read this e-book. It is full of practical advice, but also of Corwin Hiebert's life stories and stories provide by other artists. Those examples of real life case studies, artists sharing their projects, are added value in the e-book, and bring all theoretical advice to life. Beautifully produced, 39 pages spread e-book is a great value. Read more or click here to buy.
"Light and Land" by Michael Frye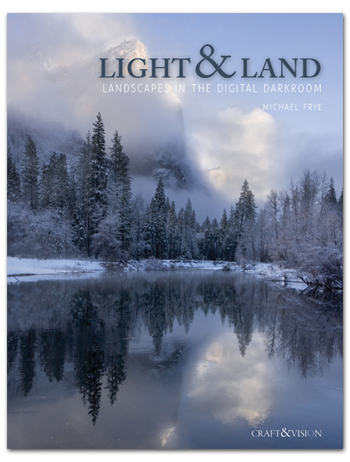 In "Light and Land" Michael Frye shares his post-processing workflow and favorite Lightroom tools, but most importantly, the thought process leading to the final image, expressing the photographer's vision. It is particularly aimed at landscape images, but can be used in any type of photography and with any other then Lightroom post-processing software.
The e-book has a lot to offer for just 5$ of its price. Full of practical information and great images, is a perfect idea for a present for a photographer in the family, or for yourself. Read more or click here to buy.
"Exposure for Outdoor Photography" by Michael Frye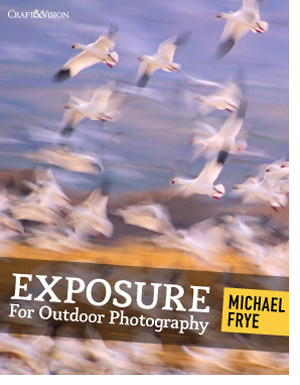 "Exposure for Outdoor Photography" by Michael Frye is an interesting twist on learning the basics of photography craft. It starst with introduction to the basics of exposure. Maybe too simple for many, but helpful nevertheless in fully understanding the later pages of the e-book. And it makes the e-book accessible to photographers at all levels, including the beginners. The introduction is followed by the 10 case studies. The images are carefully chosen to illustrate the solutions to one of exposure problems which may arise in complex light situations – like too much dynamic contrast. There is a wealth of knowledge hidden in those case studies, expanding on the concepts explained in the introduction. This e-book will really help you to feel more comfortable to come out from Automatic to Semi-automatic modes or even try Manual from time to time! Read more or click here to buy.
"Extreme perspectives" by Alexandre Buisse
The "Extreme perspectives" talks about climbing and mountaineering, but many of the tips can be easily applied to other photography genres, especially in extreme sports and adventure. The first chapter about gear will probably be a surprise for many gear geeks. But author explains his choices by saying that gear just needs to be "good enough". Another great tip from the chapter about the vision is finding the balance between the great photograph and photographer safety and subject comfort at being photographed under particular circumstances. I think this advice is very general, and can and should be applied to many other types of photography as well.
The photographs in this e-book are really breathtaking. The vastness of the landscapes and dramatic angles can make acrophobic person feel uneasy at times. Overall all, the "Extreme perspectives" is an interesting read, worth spending those just a few dollars. Read more or click here to buy.
"Sense of place" by Younes Bounhar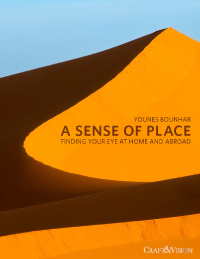 One of the popular photography myths, especially for less experienced photographers, is the need to go to some exotic and/or exciting place to find great images. At one point, however, you start discovering the real truth. If you are not able to create great images in the place familiar to you, you also will not be able to take great images in the hurry and excitement of the short trip to even a fantastic place. "Sense of place" is a an e-book designed to help you to develop a photographic eye to see those great images in front of you. By doing you homework when you have time, on a photo walk in your town, you will be ready when you are in new place with limited opportunities. Read more or click here to buy.
"Close to Home" by Stuart Sipahigil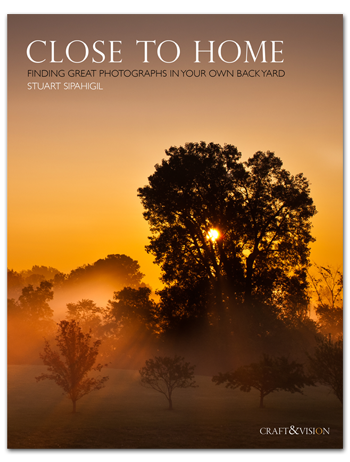 "Close to home – Finding Great Photographs in Your Own Backyard" is a $5 e-book which will help you to take your photography to another level- without spending money on gear or travel to gorgeous places. Just by looking around, and starting to see. This e-book is filled with pages of advice on how to get into the right state of mind to start being creative in an environment which you probably just find ordinary. Close to home, you can take time to develop all the photographic ideas, of which the e-book is full. It is also accompanied by 37 beautiful photographs, taken, of all places, in small midwestern town. Read more or click here to buy.
"Shoot + Share" by Stuart Sipahigil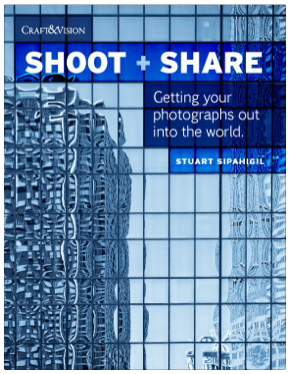 "Shoot + share" is full of great advice for both amateur and professional photographers alike regarding sharing multitude of images we daily create with our digital cameras. From social media sites, through blogs and web sites, to making prints, the strength of this e-book lies in the way you are being encouraged to think and strategize, choosing really the best outlet (or few) for your photographic style and needs. And with the lists of available options and Stuart Sipahigil sharing examples from his experience, saying what works for him and why, it really turns into an easy task. Read more or click here to buy.
"The Evocative Image" by Andrew S. Gibson
In "The evocative image" you will find answer to some basic photographic questions, like if a golden hour is the only hour to take photographs. Creative exercise will help you to discover by yourself how different elements effect the final image. You will learn to look for them in the field and how to actively utilize them to achieve the effect, the feeling that want. This is a great e-book to put you on tract to create, not just take picture and to do with more intention. The e-book is illustrated with Andrews own photographs, which are really impressive. I find them incredibly simple in composition and subject matter, crisp (combination of sharpness and tonal contrasts), and full of pastel, warm colors. And it all for just $5. Read more or click here to buy.
"Beyond Thirds" by Andrew S. Gibson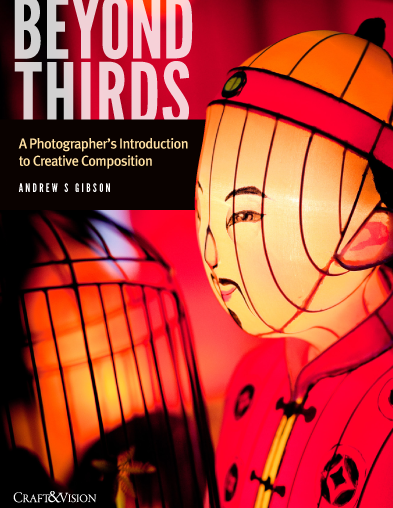 If you expect to learn about composition rules other then ubiquitous "rule of thirds"- "Beyond thirds" is probably not for you. But if you sometimes wonder about guiding the eye through the image and what is visual balance and how to compose with that in mind, intuitively- it might just be the right e-book for you. The author dives into the mysterious field of visual weight, leading lines, focal points. I really like how in this e-book the main elements in each illustration are marked for you, to remove the necessity of guessing what the author means for example by "triangles in the image". Read more or click here to buy.
"Up close" by Andrew S. Gibson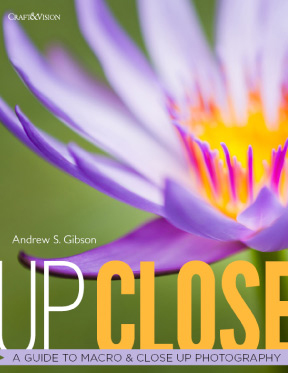 Close up and macro is the one genre of photography with probably the easiest access to diversity of subjects. It is enough to look around your house or in your neighborhood, and come up with richness of amazing subjects which can be portrayed in unusual way. At the same time, close up and macro photography have its own challenges. Choosing the right gear and applying the right technique being the most important. That's what "Up close. A guide to macro & close up photography" is all about. If you were wondering how to start on your macro photography, or want to incorporate more close up shots for some diversity, "Up close" is just for you. Read more or click here to buy.
"Slow" Andrew S. Gibson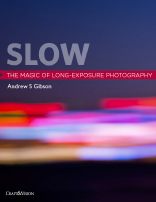 The slow exposure is a way to use the camera to look at the world around us differently. Our eyes do not see this way. So if you have never tried, you should add this technique to your photographic bag of tools. "Slow" has all the information you will need to get started. Aside from all technical tips and tricks in this e-book, I really enjoyed the case studies. Andrew S. Gibson talks with two photographers- Doug Chinnery and Joel TjinTjelaar. Both of them specialize in slow shutter speed photography, both have different take on it and two totally different portfolios. I really enjoyed looking at their images, discovering just how different effects can be created. Read more or click here to buy.
"Finding focus" by Nicole S. Young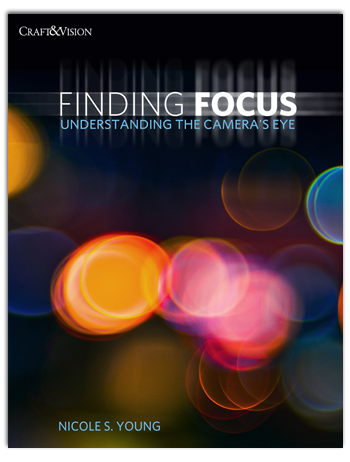 Have you ever wondered how different settings on your camera affect the sharpness of your image? You sure know about the aperture, but how about the shutter speed? ISO? focal length? Do you know anything about lens compression or hyperfocal distance? Does your camera have a Depth Preview button? And most importantly, do you know how to connect all those information to get a sharp image without losing the esthetics you envisioned? If you are unsure how to answer any those questions, then "Finding focus. Understanding the camera's eye." is just for you. It is an excellent e-book devoted solely to advice on taking sharper, better images. I would recommend it strongly for all beginners, although probably also pros will find a tip or two they useful. Read more or click here to buy.
"(micro)Stock" by Nicole S. Young
"(micro)STOCK" by Nicole S. Young has several advantages. Being an e-book, it is both short and clearly focused. It also costs only $5 ($4 for first few days) for an instant download. In my opinion, chapter 4 is the greatest strength of the e-book. It discusses in detail the typical reasons for rejections. It points what things needs to be avoided, both in shooting and post processing, to create the most marketable images. All issues are illustrated with great images, which makes it easier to understand. This e-book is a good choice for photographers thinking of trying if their images will be accepted and sell through microstock and for those who already started, but struggle with many initial rejections. Read more or click here to buy.
"Essential development" by Sean McCormack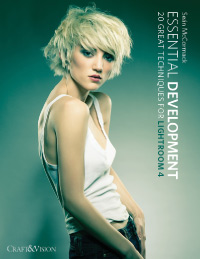 There are people out there who have never tried Lightroom, organization and post-processing software by Adobe. If you are one of them, you might want to take a look at Sean McCormack's "Essential development. 20 great techniques for Lightroom 4″. In no time, you will get familiar with this the powerful Develop module of Lightroom. In the e-book, there is a good mix of basic information and more advanced and creative techniques. And did I mention, that "Essential development" is not just an e-book? It is a whole package with 85 Lightroom presets, ranging from basic adjustments like Clarity or Saturation, to fake HDR and whole suite of toning effects. Of course, in the e-book you can learn how to build your own presets, but before that, there is no better way to extend your creative options with those ready to go pack.Read more or click here to buy.
"Making Light" series by Piet Van den Eynde
In travel photography, the flash, especially off camera flash is used the least. Unfortunately, as adding it to the picture can make a huge difference in controlling the mood of the photograph. "Making light" is a two-part series of e-books on the subject of using off camera flashes for photographers concerned with the weight of the gear. And it is directed to both Nikon and Canon shooters! Both parts of "Making light" are loaded with gear and accessories suggestions. In addition, in part 1, read about the basics of lighting, about what gear you need, and study nine example images to get you started. In part 2, Piet Van Den Eynde shows some more advanced lighting techniques and use of more flashes. Wouldn't you love to be able to "overpower the sun", and create beautiful light or even sunset in the middle of the day? After reading "Making Light" you should be able to do it easily. Read more on part 1 and part 2 or click here to buy.
"Dodge and burn" by Piet Van Den Eynde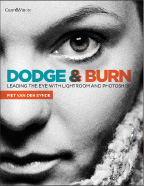 Dodging and burning is an art by itself, requiring recognizing which areas to touch up, how much, and with what tools. The first two decisions are very subjective and require a lot of practice, but for the last- there is "Dodge and Burn" by Piet Van Den Eynde. It is a very comprehensive e-book with almost 90 double-page spreads devoted to various tools in Lightroom 4, Photoshop CS6, and Nik Software plug-ins. If you want to learn more about dodging and burning and take you photographs to the whole new level, you don't want to miss this e-book. Especially that it is not just that. Check out what packages are offered by reading more here or click here to buy.
"Ten" & "Ten more" by David DuChemin
"Ten" and "Ten more" is where it all started. These are the two e-books written by David DuChemin which were such an amazing success and made Craft & Vision e-books publishing company happen. The success from those two e-books comes from the fact that they give the numbered list of answers to the most basic question: "how to make my images look better". And none of the points listed in "Ten" and "Ten more" requires you to purchase more gear, which later became the motto of Craft & Vision. I feel comfortable recommending "Ten" and "Ten more" to every photographer, regardless of the experience level. I am sure you will learns something, even from being reminded of the basics. Read more or click here to buy.
"The inspired eye" series by David DuChemin
"The inspired eye" series can be best characterized as essays on creativity and photographic process. They are not your average photography books, focused on gear, technique and software. And yet, you will want to read them, to learn something about yourself and how to approach your photography not from technical side, but from your mind. The series is also filled with quotes from famous people on creativity, inspiration, talent and work. Many of those people are not photographers, but all other kings of creatives, including actors (Marilyn Monroe) and quite a few scientist and inventors (like Nikola Tesla). There are many ideas in "Inspired Eye" to think through to get more out of … yourself, and with that become better photographer. To really take something out of those e-books, it is not enough to just read them. You need to think it through, study your process and what works best for you, and then take advantage of it. Read more or click here to buy.
"The Vision-Driven Photographer" by David DuChemin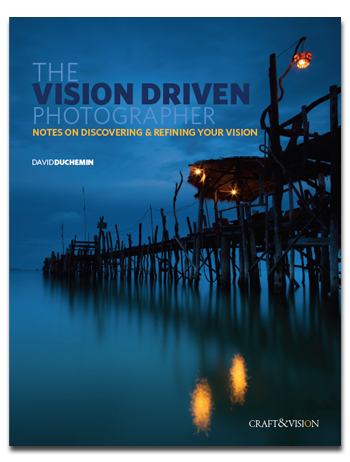 "The Vision-Driven Photographer" is written not just to be read through, but also to be thought through. It offers no easy solutions to find your own expression of yourself through your camera. But it is full of creative exercises to put you in the right mind set. So, if you feel that you had just about enough talking about the photographic technique and gear, and need something deeper to bring your photography to the next level, this e-book might be just what you are looking for. There some great images here, too. But with the complexity of the text, they are just an accompaniment which might get lost if you don't come back to it. Read more or click here to buy.
"Chasing the look" by David DuChemin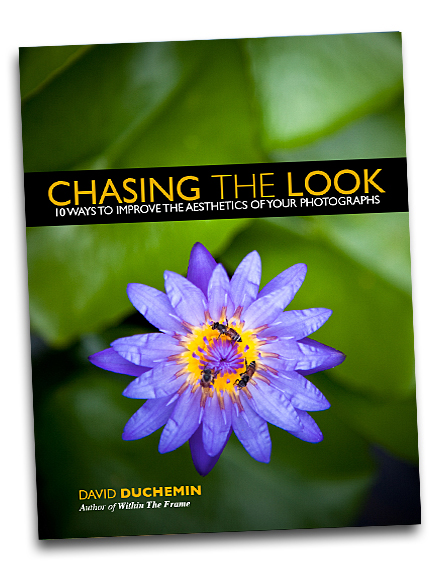 "Chasing the look" is another list of 10. Rather then 10 items, it is an e-book of ten lessons, each one focused on a single element of photographic process which contributes to the "wow" factor in the final image. It is almost like a mental checklist you should go through from the moment you notice the subject and raise the camera to your eyes and the moment you make the click. Each item on the list is a mindful decision you need to make- by choosing aperture, shutter speed, focal length but also point of view or the right moment to take a photograph, referred to in the e-book as photographs with "a gesture". There is also a number of creative exercises in this e-book. The idea behind them is to make you go out and train, to get you so familiar with your camera settings and other items on the "photographic checklist" that they become the second nature. Only then it will not slow you down while shooting, and allow you not to miss the moment and create amazing images. Read more or click here to buy.
"A Deeper Frame" by David DuChemin
"A deeper frame" is short but exhoustive, single subject focused tips and techniques e-book.
It is about vision, David DuChemin's favorite subject, just in more practical way. An expression, as he calls it. Author tackles the subject of depth in the photographs. Not the philosophical depth, but something that draws the eye into photograph, provides reference points, shows scale, vastness, distance. He describes in detail the tools which can be used to achieve the effect of depth in the images. Great for both amateurs and professionals, putting the advice from the e-book to work will help tremendously transform the flat, two-dimensional images into multi-dimensional story-telling frame. Read more or click here to buy.
"Forget mugshots" by David DuChemin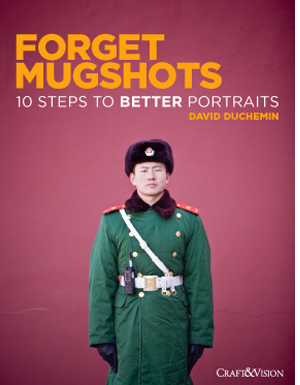 "Forget mugshots" has the form which suits David duChemin best- a list of ten tips, steps or concepts accompanied by "Creative Exercises" to push you to take the advice and put it in practice. But you will not find here the ready recipes to apply, with light set up and poses and no camera settings. What is important in "Forget mugshots" is that you devote time to get to know your subject and photograph them in unique, revealing moment. Not always smiling. All in all, after reading "Forget mugshots" you should be able to go out and take portraits of strangers and even family, which reveal something about them as much as reveal something about you- the unforgettable portraits having a deeper meaning. Read more or click here to buy.
"Portraits of earth" by David DuChemin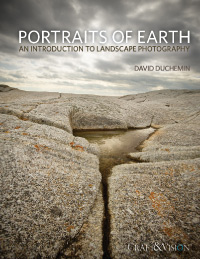 "Portraits of Earth" is a 62 double spread pages e-book that offers what I would call a collection of essays on landscape photography. You will not find the photography basics here. The e-book is written from the point of view of the experienced photographer taking on a new genre. David DuChemin shares his three years of experience in landscape photography, tells what worked for him and what he learned along the way. Between those essays, you will find pages with short tips and tricks, just a sentence or two describing particular technique or accessory you should use to get better photographs. David DuChemin is an excellent and patient teacher, freely sharing his experience. If you would like to learn from him how to improve your landscape images I recommend taking a look at "Portraits of Earth".
Read more or click here to buy.
The Print & The Process Series
"Journey through Java" by Mitchell Kanaskevitch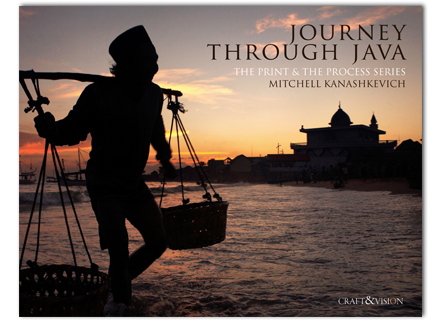 Mitchell Kanaskevitch in not new to e-book writing, he published already two of them by himself, but it certainly is a good news he decided to join the Craft & Vision brand. The 46 pages of ""Journey Through Java" showcases 24 of Mitchell Kanaskevitch photographs made on a trip to this interesting location. The 3 series of images correspond to three regions visited, and are focusing on people the photographer met on the way, and their struggle to make the living in the difficult terrain. Mitchell Kanaskevitch really mastered the use of light to his advantage, from the fire to the sunset to create tell tale silhouettes. Effective use of light is a focus of the last part of the e-book, where each image is commented on why and how it was made. The author provides some tips on when to introduce a flash, and when it is better to stick with tripod. This section contains also additional short stories about people portrayed in the e-book. Overall, the "Journey Through Java" e-book presents great images accompanied by incredible stories of hard working people, living in extreme location. With some photographic advice attached to it. Well worth checking out. Read more or click here to buy.
"Safari, A monograph" by David DuChemin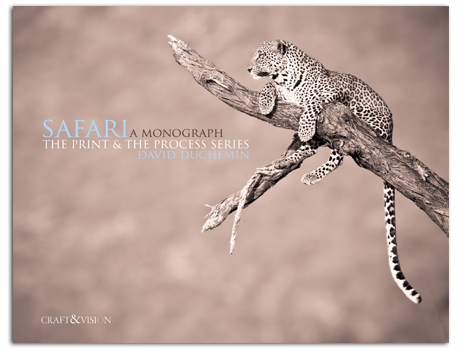 "Safari – a monograph" is a second e-book in The Print and The Process series from Craft and Vision, also the second authored by David duChemin. Within 62 pages of this e-book you can find as many as 36 great photographs from his trip to Kenya. The book organization, introduced already in the first monograph, enables to enjoy the photographs first, before we learn more about the story behind, and all the technical and post-processing details. The e-book is not just about the photographs. After all, David DuChemin enjoys teaching his photographic philosophy and does it well. The worth taking lesson from the monograph is that for a skilled vision monger the subject doesn't matter that much. Author is not a wild-life or landscape photographer, but he still finds a way to photograph his surroundings in an engaging way. It is also a lesson on patience, on taking your time and looking around, on slowing down instead of thoughtless snapping pictures.You can also find some great great tips for a safari type of photo outing. Read more or click here to buy.
"Venice, A monograph" by David DuChemin
You can read David DuChemin's new e-book, "Venice- a monograph" as a how-to book. It is a lesson of defining, starting and re-defining the boundaries of a photographic project to fit the reality. The monograph images have more then one link- there is a common location- Venice, time of shooting- evenings in the rain, color theme present even in black-and-white images (blue), making it a concise body of work. All of those elements serve the main idea of the book- to show author's feelings at the time of shooting- loneliness, solitude, isolation. Bottom line- the book is worth far more than 5$ you will pay for it, if not for the photographic tips, certainly to see his view of Venice- quite different from most tourists impressions. Read more or click here to buy.
"Iceland, A monograph" by David DuChemin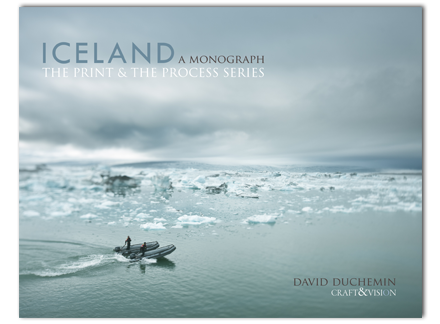 The images presented in "Iceland" are single, concise body of work, which is a bit different then his previous e-books in the series. The photographs are strongly connected by geographical place, wide angle tilt-shift lens (with its shallow depth of field and selective focus) and post-processing. Even though two different tonalities of images were used (and there are two Lightroom presets available for download!), they all go together very well. There is 39 images, exploring the vastness of Iceland landscape and barely any people with exception of photographers. The abandoned buildings only add to the feeling of solitude- and it is quite hard to find places like that Europe. Starting from saying that "teaching keeps me learning" the author gets into the lessons on photography prepared for this volume. And there is quite a few here. There are some thoughts on organization of this type of a trip and what gear to pack, the convincing lecture on the need of the tripod, and some great tips and advice on creative use of tilt-shift lens and especially neutral grad filters. In fact, he was the first to mention the color cast on so called "neutral" filters, something which frustrated me the first time I started to use them. And the way David DuChemin plays with sandwiching grad filters- it is worth reading and exploring. The e-book ends with a image by image description of why and how they were taken, and what were the particular challenges with any of them. It is a great learning source for every photographer. The e-book is not only yet another occasion to take a look on David DuChemin photography, which he keeps always fresh, not repeating same ideas and compositions. It is also a great source on creative ideas and techniques to improve your photography. I would say- 5$ well spend. Read more or click here to buy.
"Chasing reflections" by Eli Reinholdtsen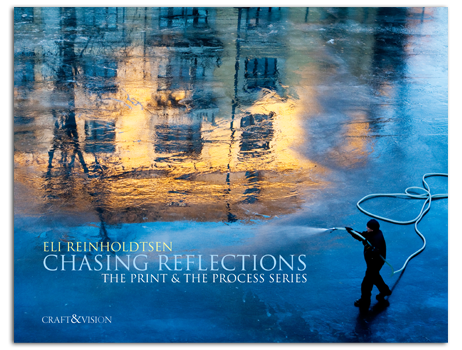 Like all previous e-books in the series, this one is divided into three distinct sections. It gives you the opportunity to just enjoy good photography, or to learn from another photographer's experience.
The last part of the book is the one I found the most interesting. Each image is analyzed and explained. What was the idea behind it, what artistic decisions were made, what worked and what didn't. Some show "behind-scenes shots", like the broken glass, which provided the most intriguing images in the e-book. As I mostly just browsed through images, after reading about them in detail, I found myself going back, to look for the things I missed, for stories I didn't realize where there. Read more or click here to buy.
"Winter in the Canadian Rockies" by Darwin Wiggett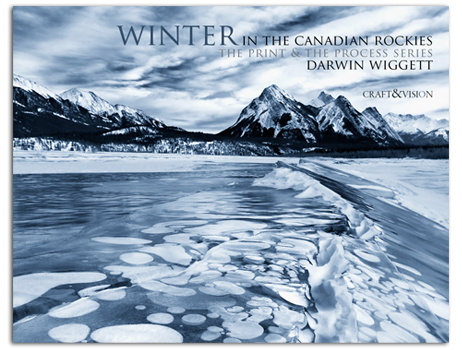 "Winter in the Canadian Rockies" is another book in "The Print and The Process" series by well-known around the web photographer (and not only!) Darwin Wiggett. The e-book contains a large collection of his great images. You will not regret time spent exploring them. Especially if you live Northern Hemisphere and struggle with creative ideas looking at currently snow covered land, this collection can certainly can serve as inspiration and provide many shooting ideas. It also has a bag-full of tips on protecting yourself and using the best of your gear in sub-zero temperatures, but also photographic tips to approach winter landscape. This e-book is a great inspiration and field guide to Canadian Rockies or any other wintery terrain, and it all for just $5. Read more or click here to buy.
"Andes" by Andrew S. Gibson
"Andes" is an e-book with 75 pages of great advice, among which 44 are large, black and white images. This treatment combined with the subject gives them timeless feeling. There is a wide variety of subjects in the "Andes" portfolio. They are sweeping mountain vistas, architecture, details, human portraits and group photos showing people during traditional festivities. It all combined does great job in showing the place and culture, give a real feeling of the place. The images in the e-book come from returning trips to the region through many years. They are also taken with different gear, some even with a film camera before the author entered the world of digital photography. They were also taken with many different lenses, including primes but also kit lens. Andrew S Gibson shows us the lesson in that. Photography is not about gear. "Andes" is a bit more then just a collection of inspiring travel images. The "Process" section gives information on the story behing the image and wealth of photography tips. Read more or click here to buy.
A Masterclass
"The Power of Black and White" by Piet Van den Eynde
"The power of Black and White in Adobe Lightroom & Beyond" is not a repetition or rephrase of other e-books. It talks in depth not only about creating exceptional black and white images. It shows in great detail how it can all be done in Lightroom (with a disclaimer that sometimes it is quicker/easier to use Photoshop :) ). Do not get discouraged by the 100 pages. This e-book is a great, light read with a lot of illustrations. And it is a very comprehensive guide on the still alive art of black and white photography. Read more or click here to buy.
"Making the Print" by Martin Bailey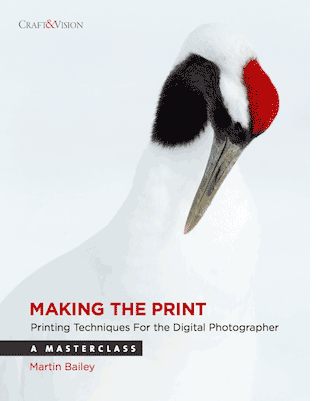 If you never printed images at home, maybe the passion coming from the pages of "Making the Print – Printing Techniques for Digital Photographer" will make you at least want to try. Right there, on you office printer, following the advice in the e-book, before you invest in real equipment. It is almost impossible not to achieve a great printing experience at home after reading and following Martin Baileys instructions. In fact, now the process seems to me to be quite straightforward, after it was all explained to me in simple language. Read more or click here to buy.
Digital Photography School Library
"iPhone Photography" by Misho Baranovic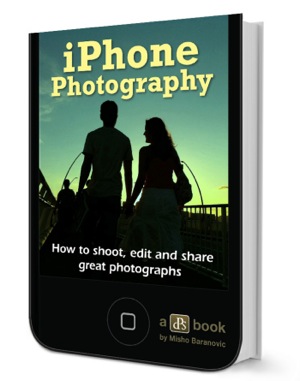 The 106 pages of "iPhone photography" feels like a missing manual to iPhone's camera and apps expanding its capabilities. The e-book will help you quickly to get control over this simple camera and unleash creativity in totally different way then any dSLR would. My favorite part were interviews with eight photographers specializing in iPhone photography. Through short interviews, they share their tips and techniques, introduce additional apps I have never heard of, but most importantly- show how wide variety of subjects can be covered with an iPhone. Read more or click here to buy.
"Natural light" by Mitchell Kanashkevich
"Natural light" consists of 96 double page spreads, divided into 7 clearly titled chapters (click on the image on the right to see larger version of the table of contents). It is not yet another book about natural light, covering basic exposure rules, metering modes and use of reflector. It has a good combination of theoretical knowledge and practical tips and examples. The tips in the e-book on the same subject are referenced by clickable page links, the feature I found very useful. And all of it is illustrated with author's own images from his travels to exotic places. Read more or click here to buy.
"Captivating color" by Mitchell Kanashkevich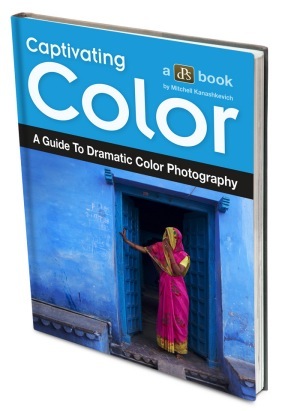 Taking photographs which draw people's attention requires a lot of knowledge. There is a lot of basic things to learn to the point of being a second nature: like choice of aperture and shutter speed or rules of composition. "Captivating Color" talks about another important skill- managing the color in your images. Many of rules discussed in this e-book are really basic, but when they are spelled out and supported by examples, it is easier to understand them and remember. Some of the subjects discussed in the book include awareness of colors that draws more attention over others, thus are desirable when associated with main subject, and not desirable when placed in the background. How contrasting colors or the same palette colors influence the outcome, and why sometimes things needs to be left out of the frame or removed in post-processing. You will learn how the light defines color, and by that mood and feeling of an image. Read more or click here to buy.
"Going Pro" kit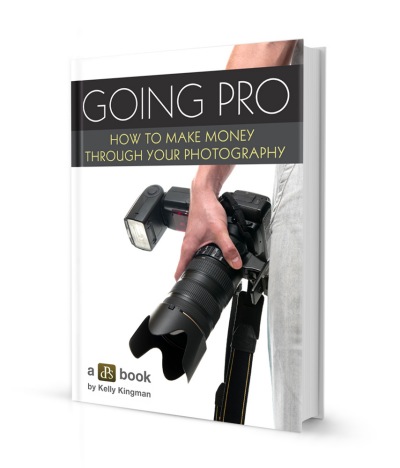 "Going Pro" kit consists of "Going Pro" e-book by Kelly Kingman, recordings of accompanying interviews and "Getting published in photography magazines" by Mitchell Kanashkievich.
In "Going Pro", Kingman discusses several ways people can go about selling their photographs. There are short chapters on photojournalism, commercial photography, wedding and portraits, fine art and stock. The author talks also about non-traditional carriers in photography, not involving taking photos directly, but often very satisfactory and surely providing an income. For all the types of photographic business, it has basic tips where to start, tricks to avoid common traps and what might or should be your long term goals.
"Getting published" starts from making you define the goals, what you want to achieve by the publications. And how to approach them when you set them. There is also a lot of discussion on measuring the outcome, both monetary and in terms of gained experience or contacts. The e-book goes on to tips on finding the right magazine for your work and choosing the best images for submission.
If you are considering taking your photography to the next level, this "Going Pro" is surely great investment.
Read more or click here to buy.
"The art of self-portraiture" by Anna Gay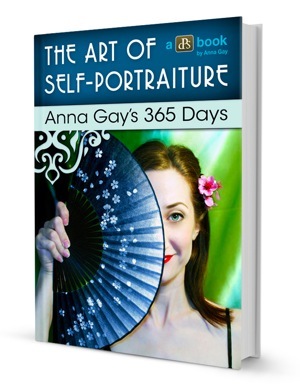 "The art of self-portraiture" is written to be useful to people having wide range of experience (or lack thereof) with use of camera and photography in general. The book is as much for photographers wanting to explore new genre and amateurs picking up the camera for the first time and looking for a subject. And if you want to learn to photograph people, who will be the most patient model then you yourself, getting you through the first time lighting the scene and creating the mood and feeling you want? If you think you might be interested in learning more about basics of photographing yourself or need to get some creative ideas on your ongoing project, read more about this e-book or click here to buy.
Flatbooks Library
"Tuesday composition" by Joe Decker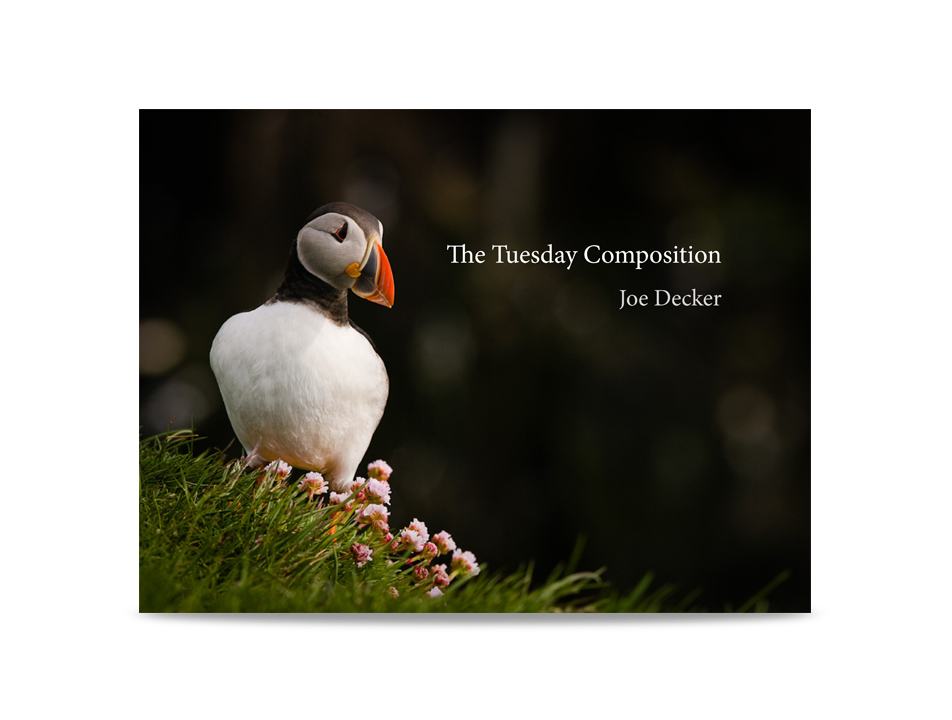 Joe Decker takes each element of interesting composition one by one. He talks about them in detail, with examples- circles, frames, leading lines and so on. He almost dismisses the rule of thirds, rather providing an explanation on how it came about and how to utilize it, successfully, not rigidly. If you, like me, are still not comfortable with all theoretical knowledge and familiarity with compositional rules, and want to get some more practical insights, illustrated with simple, example images, then "Tuesday composition" is right for you. Read more or click here to buy.
"Dream plan go" by Piper Mackay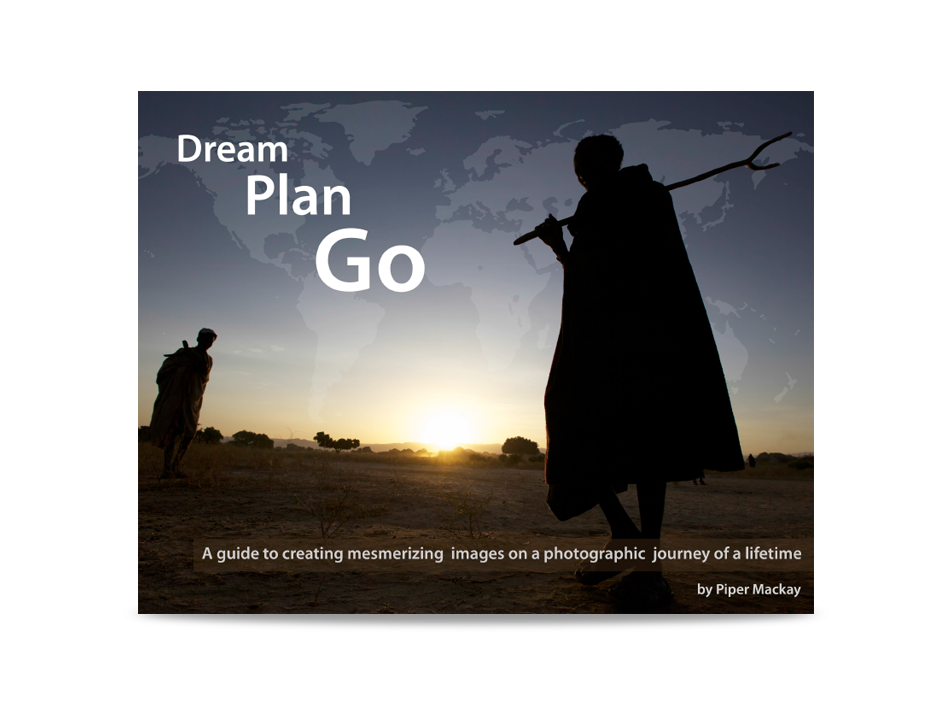 With 55 pages, "Dream plan go" it is full of great advice how to make the most of of your important trip, photographically and otherwise, regardless of the destination. It can be a national park down the road or exotic trip to China. It is, in shortest, the great photography travel guidebook. If you would like to save yourself "rediscovering of the wheel" and really prepare well in advance for an important photographic trip into remote location, than "Dream plan go" is right for you. Read more or click here to buy.