Processing fun – Gerberas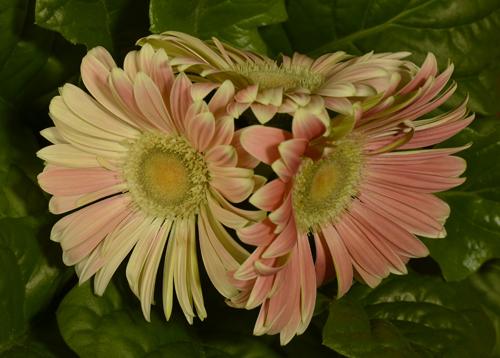 Last week, Mike Moats offered a flower image of his to his readers for some post-processing fun. It was not a contest, just a creative exercise to see what can be done differently by different people. Just how diverse the approaches people took can be viewed in this gallery.
It was a second installment of the exercise, and with image available to everybody who was interested, I volunteered to participate in the exercise myself. Inspired by some recent work by Martin Bailey, I am really drawn to black and white flower images these days. It makes it all about the texture and tonal contrasts rather then color.
My intention in post-processing was to create strong contrast between light petals (make them almost pure white, without loosing detail) and the leaves on the sides (dark, again without loosing detail).
Details of post-processing
I only used Lightroom 4. I started from straightening the image to make vertical, third flower well, vertical. Then I turned image to black and white. I added a few local adjustment brushes to even out the right and left flowers.
Then I lightened both of them with a combination of selective color luminance and tone curve. In last step, I used again local adjustment brush to darken the middles of the flowers for greater interest.

Photo by Mike Moats