A cloud over Sage Creek Basin Overlook
There was quite a few people waiting for picturesque sunset last Sunday evening at Sage Creek Basin Overlook. Some were just spectators, some were serious photographers with their tripods. The light was getting better and better with each minute, but at one point it was obvious that the sun will set behind clouds. The front was coming, bringing the rain for Sunday. I was looking around for a way to save a day, when I noticed this oblong cloud almost above us. I tried a composition with my zoom lens at 18 mm, but although it translated the colors well, it was not even close to embrace it all. I was glad that my fisheye lens was there with me. It still doesn't show the entire cloud horizon to horizon, but you can guess how big it was from the arching in the sky. I am also glad to see, that the rocks did not get deformed by the lens- unlike people and buildings. This is one of my favorites from the trip. A full of colour and drama landscape from Badlands, South Dakota.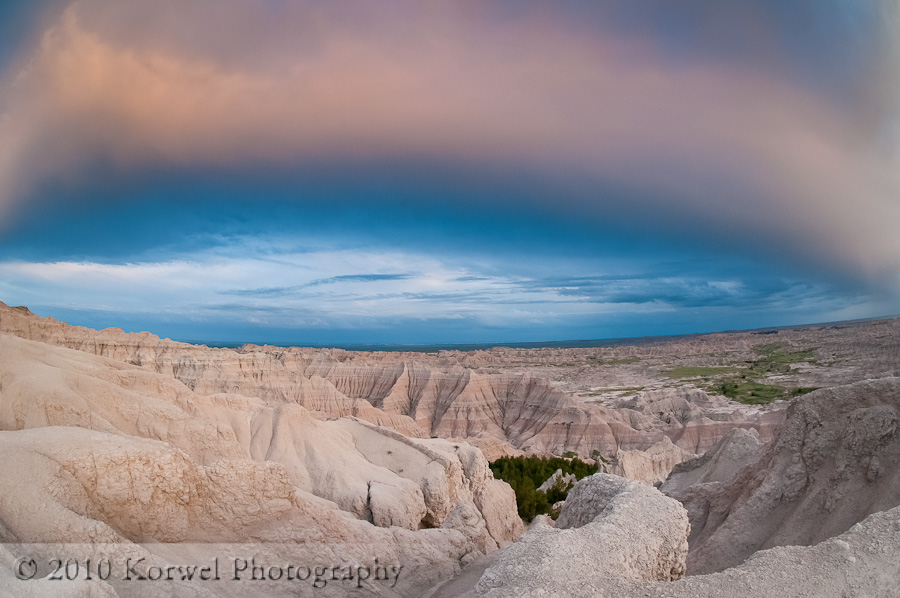 Disclaimer- there are affiliate links in this post.