In depth Lightroom 5 – "Lightroom 5 Unmasked" by Piet Van Den Eynde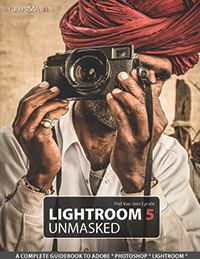 I am sure there are still serious photographers out there who are not using Lightroom. They do not make themselves a favor. Lightroom, software containing all the best of Photoshop, but reduced to only what a photographer needs, organized in easy and logical way, is getting better and better with each version. From basic modules, Library for organization and editing, Develop for post-processing, and various outputs- Books, Slideshows, Web galleries, Lightroom is loaded with features, and everything can be turned into preset, making batch working and repeating tasks easier and faster. So, if you never tried Ligthroom before, maybe the newest version, Lightroom 5, is the one to check out by downloading the free, 30-days trial?
And if you are worrying that for you, the first time user, this abundance of features and adapting to the new workflow can be overwhelming, there is help. Take a look at e-books, like the recently released by Craft & Vision "Lightroom 5 Unmasked" by Piet Van Den Eynde.
"Lightroom 5 Unmasked" really is a "Big Book" for an e-book. This is 356 pages loaded with information and examples. All the modules and features are described, along with cases- which are practical application of the possibilities of Lightroom in the form of ready workflow pieces. For each feature, the author mentions all relevant keyboard shortcuts- something extremely useful for speeding up working in Lightroom. And there is more- a lot of plug-ins, expending Lightroom capabilities are discussed. And these are not limited to large packages, like like OnOne or Nik software, but smaller plug-ins, like additional keyboard shortcuts, for example.
To get better idea what exactly you find in the "Lightroom 5 Unmasked" and if that piece of information you are looking for is covered, just take a look at the full "Table of Contents" of "Lightroom 5 Unmasked" (click on any image to open a larger versions in the Lightbox).
And even when you are intimately familiar with Lightroom after years of using it, there is a great advantage of reading (or at least browsing through) the book like "Lightroom 5 Unmasked". You will for sure find a feature or two you never new existed, or the one you completely forgot, and useful for you at this point. I am discovering something new in every chapter!
Also, do not expect to read "Lightroom 5 Unmasked" in one sitting- it is simply not possible. The knowledge, details, shortcuts, ideas – it can simply be overwhelming. Space yourself, and rather read less pages, but afterwards, go to the computer and check out the features and shortcuts to better remember it all. Another option is go through book a bit faster, and then come back to marked, most needed or most interesting features, pieces for your workflow.
If I convinced you that "Lightroom 5 Unmasked" will indeed answer all your Lightroom questions, go now to Craft & Vision web site and get this "Big Book". It is available there for $20, unless you make your purchase before November 4, 2013 at 11:59 pm, and use the code UNMASKED3, which will save you $3 on the regular price. So don't wait too long, click here to purchase.
And for those of you familiar with Lightroom and only interetsed in what newest version has to offer, there is another e-book by Piet Van Den Eynde available from Craft & Vision. "Lightroom 5 up to speed" is a small, $5 e-book talking in detail about the new features available in the latest version of Lightroom. It covers subjects like new, improved Adjustment Brush which can do more than circles, the additions to perspective corrections with Upright, Radial Filter- and many more smaller changes. All accompanied with ideas for creative use and shortcuts, of course! Get it now by clicking here.
The links in this post are affiliate links. See details of our affiliate policy here.