"Food photography and styling" book review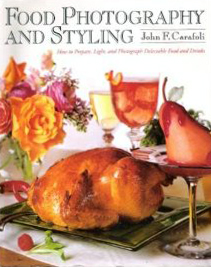 There are not many books on food photography. But when you think about, food photography is not different than any other studio-product type of photography. The trick is in knowing how to prepare food for shooting session. I picked up the book "Food photography and styling" by John F. Carafoli from university library. The book isn't very recent, it was published in 1992. Most of the images in the book are heavily dated, dark lit, white balance is on the side yellowish cast. There are some simple scene lighting schemes presented, but they are not focus of the book. Maybe because the book not written by photographer – the author is an accomplished food stylist. The strength of the book lies in tips and techniques of making food look good on the photograph. Some techniques are already well established in the field, and can be found elsewhere (for example in another good read, Digital Food Photography by Lou Manna). But it is good to know how to make artificial ice cream, so it doesn't melt on the set; to use margarine because it has better color than butter and to put salami on the pizza when it comes out of the oven, instead of before, because it tends to shrink and change color. The book is full of them, and there is a short glossary of additional advice at the end.
Because the book is written by food stylist, the food images were photographed by people other then author. I was able to find some of the names featured in the book on the Internet and learn more about their work. Jack Richmond seems to have the biggest food portfolio of all of them, it is really worth checking out. Karol Caplan work is more on fine art side, very subtle, but interesting. Brian Hagiwara is a stock photographer with large variety of images, many of them food.
The links in this post are affiliate links. See details of our affiliate policy here.