In time for Manhattanhenge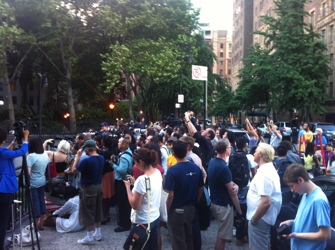 I had a chance to witness something unique yesterday in NYC. I was there just in time for Manhattanhenge.
I did some scouting on Tuesday, and I found only three perfect places to photograph this twice-a-year event. In the best spot, on an overpass on 42th, you probably had to wait all day to get a decent point of view between all those tripods. Luckily, the 34th was not so popular, and even with me getting there rather close to the sunset I got the spot I wanted.
Here is an image processed on the iPad with Snapseed. Just to give you a taste of what it looked like. I have a few bracketed HDR which I am planning to process when I get back.
And if you would like to see some more Manhattanhenge photos, take a look at collections on these web sites:
– Manhattanhenge on Chase Jarvis blog
– Spectacular sunset in Gotham at Faded & Blurred