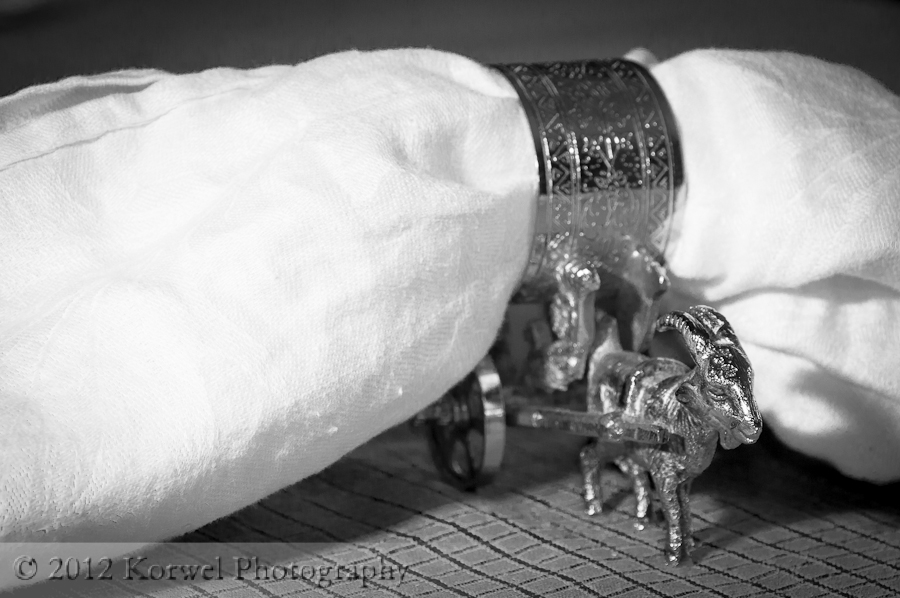 This miniature goat cart, the silver napkin ring, was one of the set on the kitchen table in the Flynn House. Flynn House is the wealthy farmer's home, build in 1870 and preserved in Living History Farms. Last week, I have posted the image of the oven with the warm light coming from inside of it, image created by Tomasz. After he finally was happy with this photograph, after many changes in flash settings and colored gels, we moved on. About a step- so I can take those close ups of the napkin rings.
These were children's napkin rings, if anybody wonders. The youngest of the family were not eating with adults in the dining room, they were having their meals right in the kitchen.
I decided to convert this image to black and white to remove the distracting bright magenta table cloth, and to focus viewer's attention on the difference in texture between the silver animal and plain white cloth of the napkin itself. I was worried a bit that black and white conversion will remove the contract between those to objects, one white, one shiny, but it was not the case.