For some time now I was playing with light. Contrary to Iza I very much like using flashes as much as I can. I like the flexibility they give you to balance lights around the set. Up until today we had only one SB-800 and there were multiple occasions when I felt like I need more power to achieve what I wanted to. Most of the time I was able to get satisfying results with silver reflector or even with pop up flash on our camera (equipped with Soft Screen). But there are situations when there is nothing that can replace that missing flash. in the past when we had bigger projects (like our holiday cards) I was just borrowing set of studio light from a friend of ours. But for day to day playing with images it's just to cumbersome (and becomes old pretty fast). So I've decided that it's high time to buy next flash. After weighing in several options ranging from cheap no name flashes from Eastern hemisphere, through several 'general brands' manual and TTL flashes to the very top of my wish list which is occupied by SB-900 I settled in on SB-600. There are several factors that helped me choose. The biggest probably was the fact that SB-600 is a part of Nikon's CLS family and can be slaved to SB-800 (or to our D300 working in commander mode). That gives me many options to play with the light without having to move around – everything happens remotely.
Of course that new toy had to be tried as soon as possible. Iza came up with an assignment to photograph some glasses with sparkling wine. Here is how it came out: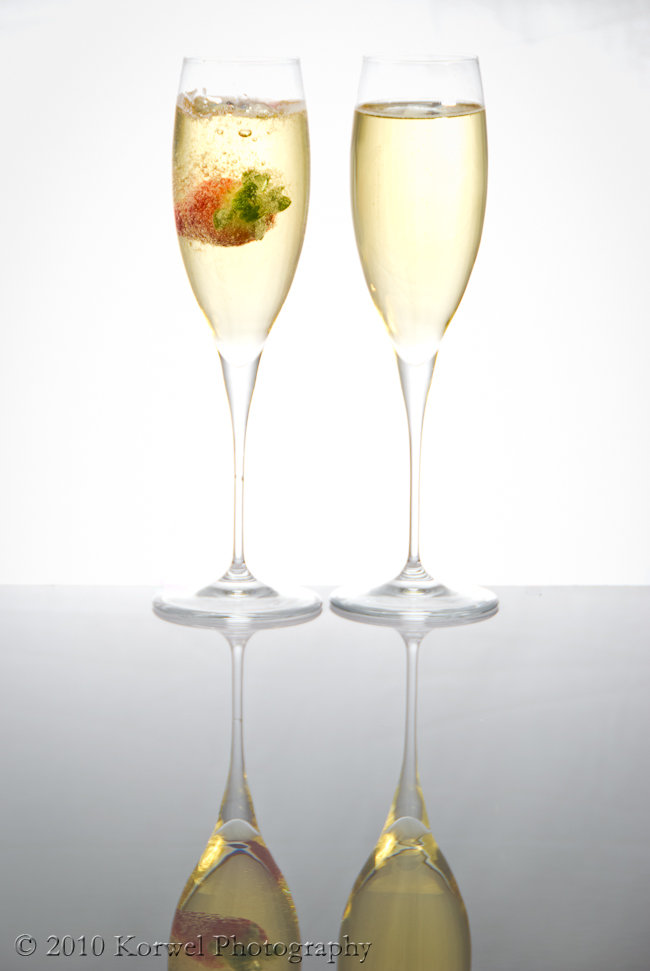 We put the glasses on top of the small sheet of acrylic which gave us this nice reflection. One flash was standing behind the table casting high power light on the background while another one was directly above the glasses shooting through diffuser partially covered with black blocking layer to keep acrylic sheet from becoming totally white. Iza's idea of dropping strawberry into one of the glasses added some nice final touch to the picture.