Thursday read – learn ins and outs of flower photography with "Wildflower photography" by Steve Berardi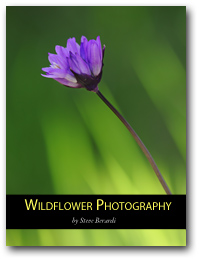 Spring is here, and with it the nature comes back to life. The flowers start blooming, both in your garden, and in woods, and on meadows. Simply- everywhere. With their bright colors, they are a perfect spring photography subject. If you want to know how to approach photographing them, especially wildflowers at its best, "Wildflower photography" by Steve Berardi is there to help.
This e-book consists of 64 pages loaded with tips on photographing wildflowers in their natural environment. It is not an easy task by itself, when you think about it. You are shooting in the conditions you cannot control, and other plants, wind and quality and availability of light are often your concern.
"Wildflower photography" covers extensively many subjects relating to photographing flowers. It starts from gear recommendations and accessories. The author discusses basic camera settings, choosing flower to photograph and paying attention to background. Then he goes on to describing importance of aperture and shutter speed on the final look of the image and provides the checklist to maximize the sharpness of the photograph, including tripod, mirror lockup and other tricks. Later in the e-book he covers another important aspect relating to perceived sharpness of the subject, and that is setting the camera sensor parallel to the flower.
The chapter on histogram is a very useful one, not focusing only on the overall histogram, but stressing the importance of checking the RGB histograms, as single colors tent to get overexposed in flower photography. Something I often struggle with.
When the author talks about light, the series of images illustrating different lighting conditions is provided for reference, great visual way to teach. I also love the DIY light diffuser for shooting flowers!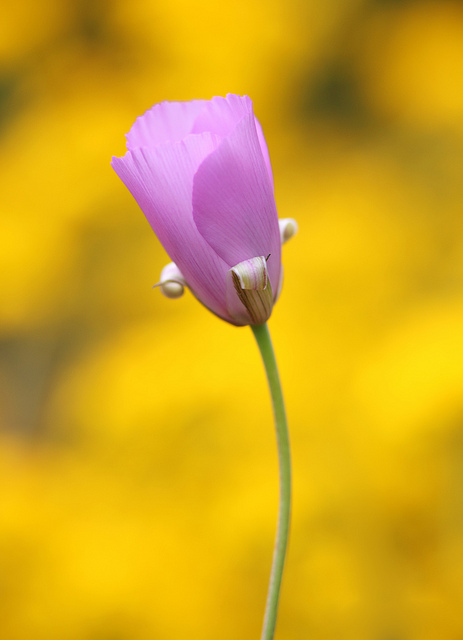 Another chapter I really enjoyed reading was the color theory based chapter on composition. I wish author gave more examples, but nevertheless, it is a subject I will probably read more about. The list for further reading is provided. I am also looking forward trying out the basics in the field.
Next whole part of the book is devoted to software and post-processing. Author focuses on Photoshop techniques, but aside of basic tonal and sharpness adjustments, he discuses in detail such advanced techniques as focus stacking, which becomes very popular these days. Those are really step by step instructions, easy to follow even by people not very familiar with this complex, yet indispensable software.
Towards the end of the e-book, there is 12 examples of author's wildflower images. He talks about technical and practical aspects of creating them.
"Wildflower photography" ends with very useful trail use checklist and quick reference guide for shooting wildflowers.
My complains about "Wildflower photography", not diminishing its value, is the fact that it is overly technical and not talks at all about more creative aspects of photographing wildflowers. I guess it is also not something author consider his strengths, since in the last chapter with examples, he repeats the images already presented earlier in the book, instead of showing more examples of his work. Also, the whole e-book is really addressed to dSLR camera shooters, and I doubt owners of point and shoot, camera phones and introductory dSLR will be able to use the tips from the e-book to the full extent.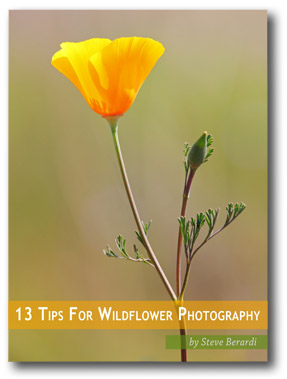 I would recommend "Wildflower photography" to more advanced photographers who do not have experience in macro shooting, as a great technical reference. For $12, you get not only tips on taking the photographs, but also details of post processing. You can buy it and instantly download by following this link
If you would like to learn more about Steve Berardi's writing and teaching style, or see in more detail what "Wildflower photography" is about, start from his free e-book. "13 tips for wildflower photography" is available for instant download from Steve Berardi's website. It is like synopsis for "Wildflower photography", where items discussed further and in far more detail in the paid e-book are outlined on just 19 pages.
The links in this post are affiliate links. See details of our affiliate policy here.