A Day with Clay Blackmore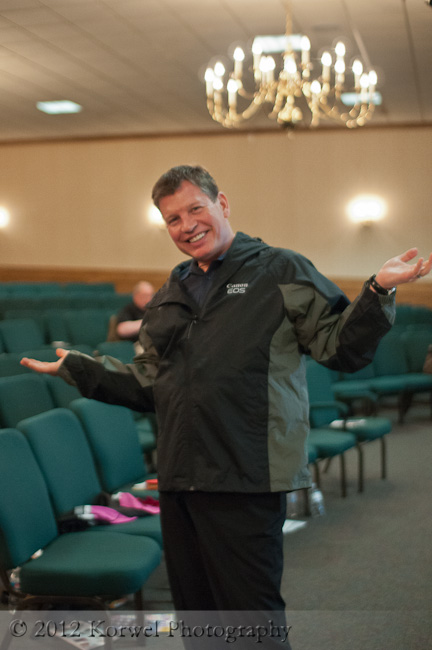 It doesn't happen often that big names in photography come to Iowa. Most of the traveling workshops comes to Chicago or Minneapolis. So it is really a treat when local photo club organizes Canon Explorers of Light seminar once a year. It is about 30 min drive and it is free. Unfortunately, it doesn't give me a choice of whom to see.
I consider myself a versatile photographer- I like to photograph just about everything. But if there is one photography type I stay away from, it is portraiture. I was a bit disappointed at first, when they announced this years speaker. I never heard of Clay Blackmore before, to be honest. But a quick look at his web site and blog revealed that he is, indeed, a very skillful photographer, working with weddings and portraiture. I wasn't sure if the seminar will have much value for me. Luckily, I was wrong.
Clay Balckmore is one of few remaining classic portraiture artists. His images reminded me of an elegant style of David Zeiser, and it turned out- for a reason. Both students of Monte Zucker, they use a set of classic lighting styles and poses to create really beautiful and timeless photographs. I enjoyed looking at Clay Blackmore portfolio images. But I was really impressed when he worked in on-stage build studio and the images were displayed live on the screen. The gorgeous portraits were created right in front of my eyes, almost effortlessly.
During his almost day long seminar Clay Blackmore talked about the basics of photographing children, seniors, couples, families, groups… well, everyone, just like the slogan of his tour. He talked about posing men and women, one person, versus two, three, four and so on. He explained how he sets up the lights, and how he makes sure the shadows are exactly where he wants them. Even without attending the second part of his two day stay in Cedar Rapids, the Master Class, I am now much more confident I could do some portraiture with the few pointers he gave. And I regret a little bit I did not sign up for the second day.
One of the lessons during the seminar was on photographing groups. Clay took a challenge to set up a group shot of all attendees, 200+ people, in just 10 min. I think for a moment he was a bit overwhelmed when it turned out the crowd he already has on scene is just a fraction of the whole group, but being a professional, he delivered. In 13 min, he had everybody in place and shooting.
It was a very busy and long day, but it was time well spent, nevertheless. I am not saying I am ready to go out and shoot studio portraits, but I start to realize it might not be as bad as it sounds. Not as complicated. If you are, however, considering career in photographing people, I highly recommend Clay Blackmore "How to photograph everyone" tour, when it comes to your town.