It seems although the technique is quite old, nowadays everybody shoots and merges HDR. No secret that you must use Photomatix for it, it says in every single tutorial in magazines (like Popular Photography) and in books (like Lightroom 2 for digital photographers). High time I tried it.
The bridge is just outside Brevard, on the way to Looking Glass waterfall. The view was just asking for HDR. The strong midday sun made trees well lit, leaving shadows under the bridge in the dark.
All together I took 13photos, ranging 6 steps (from 3.77 to -2.14, don't ask me where the strange numbers came from).  Taking into consideration I was just changing steps in random order, I would say it is not bad.
I decided to use only 3 of them, sticking to the classic 0 (1/200 sec), -2.17 (1/3200 sec) and 1.77 (1/13 sec), all taken at f 3.5. The first try was to use Photoshop only. I applied the steps described in Scott Kelby's "Lightroom 2 for digital photographers" book to get some idea about the workflow. It looked ugly. I decided to replace -2.17 with -1.17 (-1 instead of -2), and add +0.83 just to see if it is better (I didn't expect that choosing the right photos will take me that much time!). That worked better. I also found out that the whole art is in Toning Curves adjustments. And voila, my first HDR: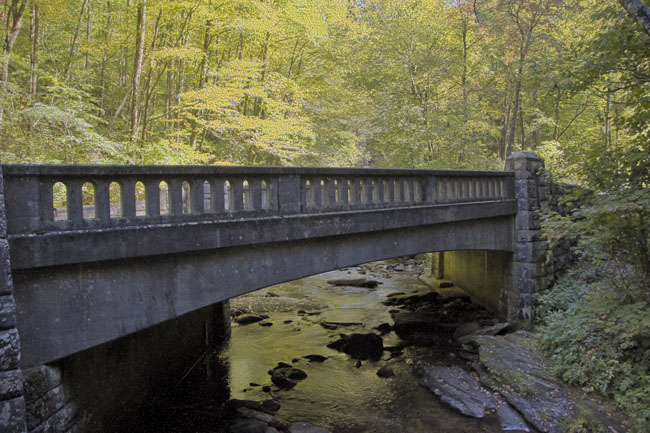 All right. Time to try THE tool. Again I have some help, from November 2008 issue of Popular Photography. What I can say right away I don't like in Photomatix is that sliders in Tone Compression are not live :( and are …. I don't know. I hate working with them. I was happy to get the image to Camera Raw and have some control over what is going on. Effect?
What I have to admit is that with same amount of messing in Camera Raw, the colors are more vivid coming from Photomatix than from Photoshop.
And last test – I read about free (huge advantage) software FDR Tools Basic (more capable versions are not free) on Jeff Revell blog. But is not only that- maybe it is just my learning curve, but this one turned best of all. Although at first I thought the menu is not very intuitive, it turned out to be, so without any help, I figured it out.