"Chasing reflections" by Eli Reinholdtsen – e-book review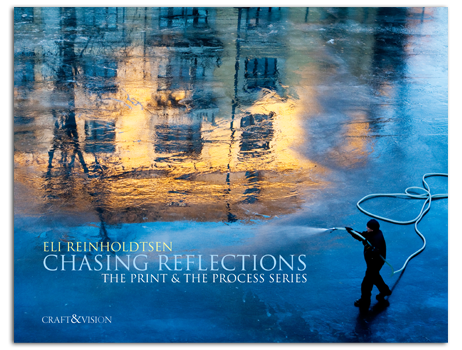 If you follow David duChemin's blog and other activities, you know that he is very fond of Eli Reinholdtsen work. Maybe you even saw her Flickr photostream or visited her blog to see her astonishing images. But this e-book she authored, "Chasing reflections", third one in "The Print & Process Series", provides you with something more. You will find a series of images, followed by Eli's explanation of "why" and "how" they were created.
Like all previous e-books in the series, this one is divided into three distinct sections. It gives you the opportunity to just enjoy good photography, or to learn from another photographer's experience.
You start from studying screen-size 37 images. Unless you are viewing the book on iPhone, you can really distinguish all the details. Spend some time looking at those images. Eli's compositions consist of many layers, all of them contribute something to the whole story. I think those images remind me a bit of Picasso's painting, where many items, often just fragments, are overlaid on one another. Pay attention to what is behind, and what is in front of the "mirror", as well as to the background.
Next section is devoted to all the technical details for those, who want to go out and find their own "reflections" project. Eli talks about aperture, angle and point-of-view and importance of light. But foremost, she describes that those images are as much due to careful planning, or visualization, as they are of patience and waiting for that Cartier-Bresson's "decisive moment", just a right person showing up to finish the composition.
The last part of the book is the one I found the most interesting. Each image is analyzed and explained. What was the idea behind it, what artistic decisions were made, what worked and what didn't. Some show "behind-scenes shots", like the broken glass, which provided the most intriguing images in the e-book. As I mostly just browsed through images, after reading about them in detail, I found myself going back, to look for the things I missed, for stories I didn't realize where there.
And here is how the book is described on Craft&Vision:
Chasing Reflections is the third in the series The Print & The Process. Eli Reinholdtsen is a creative photographer who, through her unique and skillful approach to reflections, captures moments and juxtapositions that are truly an art form at its finest. Reinholdtsen digs deep and shares tangible ways to scout, setup, and shoot complex and magical photographs that push the envelope of visual poetry. Her playful descriptions aren't shy of digging deep into the techniques required to capture movement, timing, and contrast. Chasing Reflections is an inspiring collection of 37 photographs that stand on their own a pieces of pure art (The Print) followed by a discussion of the creation of those visual moments (The Process).
Chasing Reflections is a available now for $5. And as usual, there's also a special offer:
For the first four days only, if you use the promotional code REFLECT4 when you checkout, you can have Chasing Reflections for only $4 OR use the code REFLECT20 to get 20% off when you buy 5 or more books from the Craft & Vision collection. These codes expire at 11:59pm PST August 1, 2010.
As a full disclosure, all the links in the review as well as on the right side of the blog are affiliate links.
Also, stop by the blog tomorrow if you want to see my take on urban reflections.