"Close to home" by Stuart Sipahigil – e-book review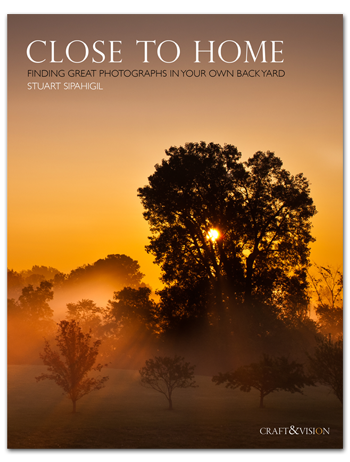 Today is a new e-book release time from Crafts and Vision. "Close to home-Finding Great Photographs in Your Own Backyard" introduces yet anther author, Stuart Sipahigil, whose beautiful blog is well worth checking out. The e-book talks about the art of creating great photographs in your own backyard. Author gives some examples of accomplished artists, like Claude Monet or Ansel Adams, who successfully photographed the place they lived in.
The e-book is filled with pages of advice on how to get into the right state of mind to start being creative in an environment which you probably just find ordinary. It teaches you how to take time to study your neighborhood, block, yard or town in great detail – and eventually take extraordinary photographs just there. You don't need to go on expensive trips, on safari, to Java or Europe, but still create great images within 1 mile from your house. Or even in your house.
Close to home, you can take time to develop all the photographic ideas, of which the e-book is full. It is also accompanied by 37 beautiful photographs, taken, of all places, in small midwestern town. I bet you can hardly think of more boring place, at least on the surface. (I can say it. I live in Midwest, too ;) ). I think my favorite image is that of birdhouses (preview on the left), but I appreciate all of the winter scenes, too.
If you find all the advice and ideas in the book useful, try challenging yourself with One Mile Project, described in "Close to home" e-book. You can also join the Flickr group, and share your images with others.
UPDATE – you can also join the Close to Home eBook Flickr group, and submit your images. If you do that by November 21, 2010, you can win one the contest prizes!
"Close to home – Finding Great Photographs in Your Own Backyard" is a $5 e-book which will help you to take your photography to another level- without spending money on gear or travel to gorgeous places. Just by looking around, and starting to see.
Craft and Vision release notes says:
"Close To Home, Finding Great Photographs in Your Own Backyard", is the latest in the Craft & Vision eBook line-up. This inspiring ebook by Stuart Sipahigil is about the challenges of finding the extraordinary in what we've come to see as mundane. Taking great photographs does not require traveling to an exotic place. By digging a little deeper and seeing things around you more clearly you can reinvigorate your photography and find new images in familiar territory. Through practical insights and creative exercises you'll discover that the grass is not always greener on the other side. This ebook provides photographers of all levels with the tools and encouragement you need to help you get out of the ruts we all fall into. Your city, your neighborhood, and even your backyard are all full of opportunities for great photographs. The goal of this ebook is to help you see those opportunities and the photographs that lie within them. "Close to Home" is 37 spreads of photographs, insights, and exercises that will inspire as you develop your own craft.
As usual, the new release is accompanied by the special offer. For the first five days only, if you use the promotional code HOME4 when you checkout, you can have the PDF version of "Close to Home" for only $4 OR use the code HOME20 to get 20% off when you buy 5 or more PDF ebooks from the Craft & Vision collection. These codes start at 1:00am PST, October 28, 2010 and expire at 11:59pm PST November 1, 2010.
Disclaimer – some of the links in this post are affiliate links.