Exploring the masters – intimate with nature by Eliot Porter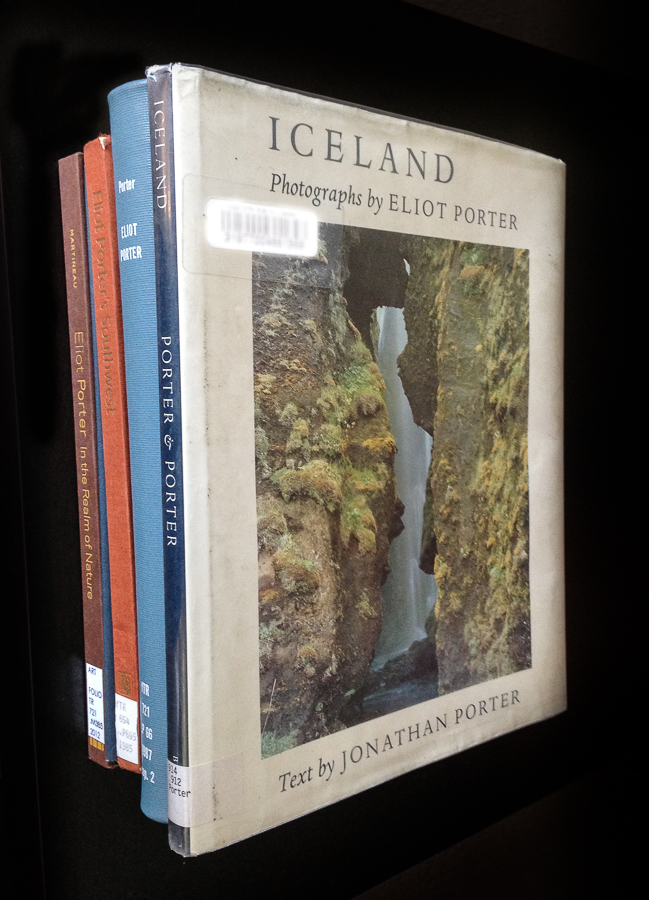 It all started with "Iceland. Photographs by Eliot Porter. Text by Jonathan Porter". Interestingly, I have found it in Travel Guides section of the local library. I opened this large, coffee table book, and fell in love with the photography there. Eliot Porter images of Iceland are not those sweeping landscapes, with rocks in the foreground, taken at sunset/sunrise, like you will see today. No, they are totally different in style and subject matter. They are about lichens, wildflowers and patterns in the rocks. Intimate landscape, not macro, but close up of details, full of texture and color. Of course there are occasional waterfalls, but the whole book shows different, not touristy, but photographer and artist oriented view of this small, unique country. I am coming back over and over again to "Fractured obsidian (volcanic glass) near Landmannalaugar, a hot spring", "Moss growing on cliff at the edge of Solheimajokull" and my all-time favorite, "Hot springs east of Myvatn".
Unfortunately, it was all the local library had to offer. Luckily, I have also access to University library, with their art collection. Here I was able to pu my hands on "In the realm of nature", "Eliot Porter" and "Southwest".
His "Southwest" portfolio brought on also a very unique view of the area compared to what we are used to seeing. Instead of rock formations and narrow canyons, there is a lot of images not focusing on unspoiled, human-less nature, but rather on human activities. Houses, mines, signs, he recorded human footprint rather than trying to hide it.
Through all the books, I was admiring the versatility of Eliot Porter's work. And at the same time, his focusing on only the handful of subjects he was most passionate about. It seemed to me he enjoyed photographing trees- branches, bark or leaves, rocks and lichens. There are dramatic cloudscapes, both in color and in black and white. And photographs of birds, with spread out wings, dramatic and revealing. And only occasional sweeping landscape, or people.
For the technique, I love how this images show tonal contrast, is it in colors (like in "Pool in the brook") or light and shadow (Eagle's nest, New Mexico"). There is a lot of texture, like in one of my favorites, "Foxtail grass". Lessons worth coming back to over and over again.
The whole experience of Eliot Porter photography was very inspiring, showing I can go out in my back yards, and create something unique. So many images were of not very unique subjects, really, he created something extraordinary of what was available.
Out of six books I had available, if I were to recomment one o give the widest overview of Eliot Porter's work, it certainly would be "Eliot Porter by Eliot Porter". I was surprised and rather disappointed in the collection presented in "In the realm of nature".
UPDATE (August 18, 2013) – to see selected images by Eliot Porter, visit his portfolio on Photography-Now.net website, great resource I discoeverd recently thanks to Rick Sammon's guest post on Scott Kelby's blog
Previously in the "Exploring the masters" series I published:
Some links in this post are affiliate links. See details of our affiliate policy here.