Exploring the Masters – serenity by Michael Kenna
My interest in work by Michael Kenna sparked when, at almost same time, I read about his work in "The Photographers Mind" by Michael Freeman and I saw one of his images discussed on the LensWork blog. After quick Google search I realized that he was photographer known for those images of a pier extending into silky sea. And I noticed that hardly any of those long exposure photographers Andrew S. Gibson interviewed in a series on his blog mentioned him as their inspiration or predecessor. In a sense, it gave me the idea of the "Exploring the Masters" series, because I realized, each and every one of those photographers had Michel Kenna-style image in their portfolio, without probably even knowing about it… I wanted to extend my photographic literacy, and maybe encourage a few readers to do the same.
Today, I am looking at four books of photographs by Michael Kenna: "Night walk", "The rouge", "A twenty year retrospective" and "Huangshan". It is quite a collection, especially with putting "The rouge" against "Huangshan", which I will talk about shortly.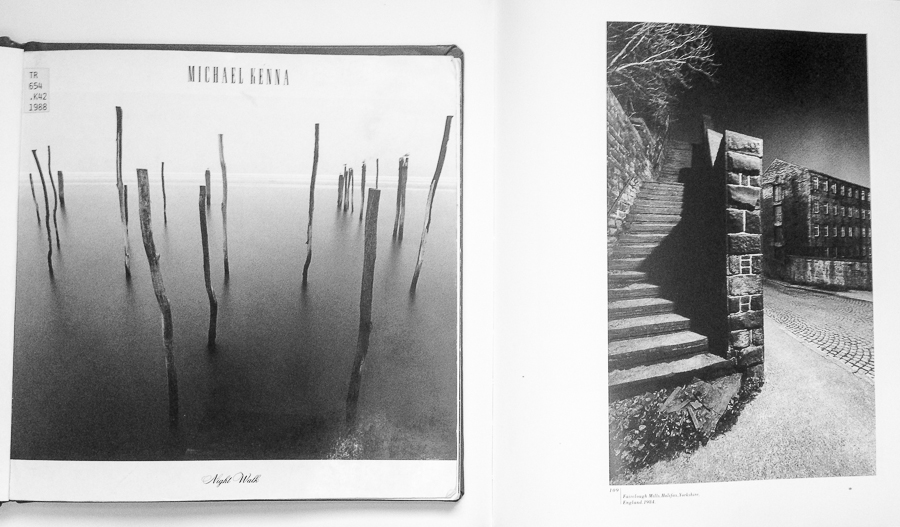 I have started browsing from the "Night walk", although later noticed many images from this body of work were also included in "A twenty year retrospective". It was an eye-opening experience. I was looking at the photographs, observing light and shadow and well defined boundary between them, wondering what is so different about them. Yes, they were shot at night, but I just do not do it often enough, and hardly ever in full moon. After a moment, I realized that what throws me off is bright light on side of subject and totally dark sky. I think. But I guess after reviewing this portfolio over and over again, next time I will have a better feel for night images and recognize them right away.
My favorite images in this book, other then night city scene in the spread which illustrated this post, where, to my surprise, the chimneys of power plant. Do we always analyze images through our own life experience? I grew up in town where there was a big steel plant, and in a region where chimneys were typical and often seen. I do not find them ugly, and in fact, there is an industrial beauty in Kenna images. The soft smoke or fog coming out of chimneys, the dark sky, the repeating pattern of man-made structures. Surprisingly, a bit later, the industrial scenes from "The rouge" did not speak to me at all. They were full of contrast, of black elements, silhouettes, and overall, messier compositions with too many things drawing attention. Right, there were shapes and patterns, but there is hardly any image in "The rouge" I would call beautiful, maybe only in some sense, artistic.
"Huangshan" felt right away like a very different body of work. These are serene, natural scenes, with less traces of civilization, but overwhelming presence of nature. There are steep slopes of mountains and the rest of lanscape is disappearing into fog. Even human-made structures seem to fit the environment. And yet, Kenna's character, or style, comes out as clearly of this work as from previous.
I think looking at those books, I got inspired to go out and look for subjects, is it in industrial or natural setting, a bit differently. Silky water, or clouds, or smoke, I have actually never tried it before. But the machines and valves, I need to spend some more time around those to get the feeling for beauty in them.
To see some more images by Michael Kenna, check this post by 121clicks.
If I have inspired you to go and look up Michael Kenna, you might also want to take a look at previous posts published in "Exploring the Masters" series– they are all summarized on this page.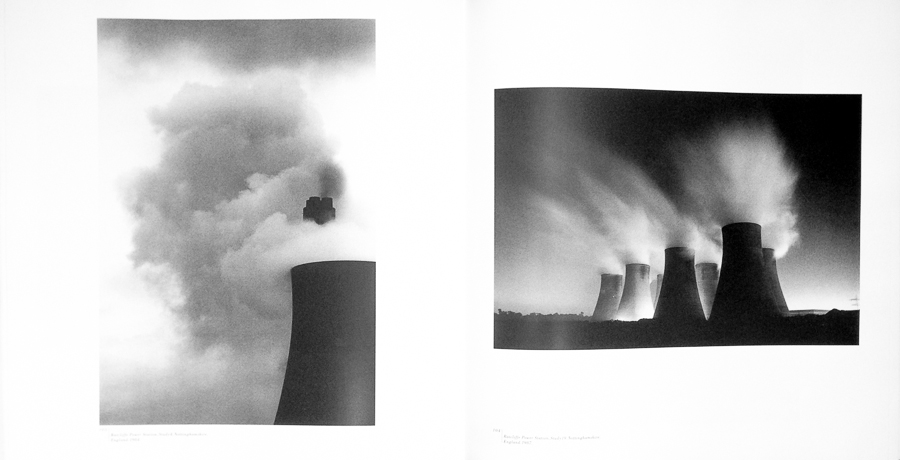 The links in this post are affiliate links. See details of our affiliate policy here.