Favorite landscape location – Moab, Utah
The question was posted few days ago on Digital Photography School – "Do You Have a Favorite Landscape Photography Destination?". It will probably will not be too original, but I do, and it's around Moab.
Moab is a town located in North-Eastern part of Utah, in American South-West. It is approximately 30 miles South off I-70 along US 191 (see Moab on Google Maps). Moab is positioned strategically between Arches and Canyonlands National Park, right in the middle of the most unique landscape created in red rock, Navajo sandstone.
I was born and raised in Poland. Europe, overall, is quite a crowded place. People live everywhere, including mountain terrains. Coming to US was a discovery of open spaces and isolated lanscapes, without the electricity poles, and, most of all, without houses and people. It s especially true in the area of Moab, where deep, rocky canyons make the land inhabitable to anyone but backcountry hikers. The colors of the landscapes and the vastness of it is what makes me come back to Moab, any chance I get.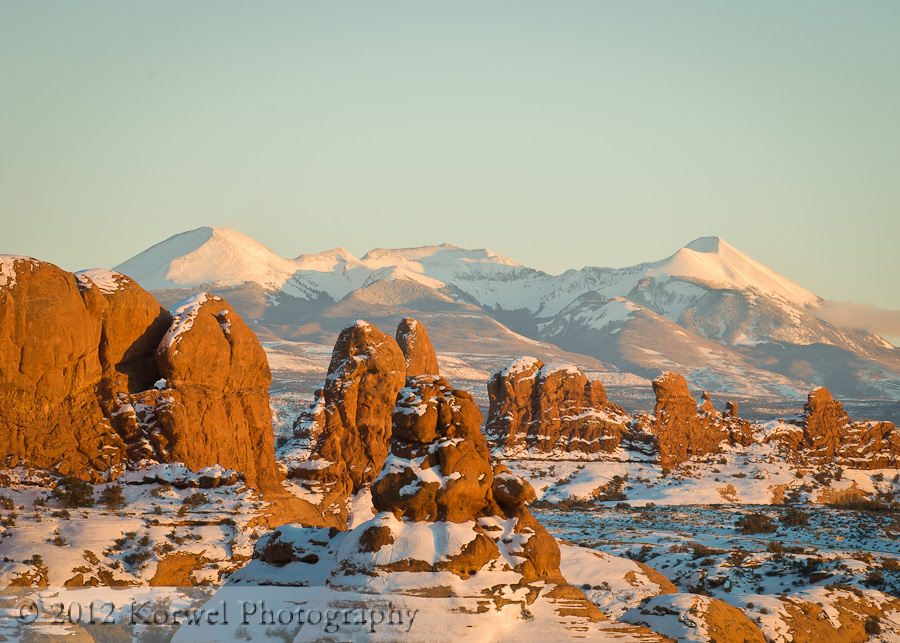 I believe you can visit Moab any time of the year. However, during the summer season and popular weekends, you are risking crowds of people, especially in very popular points in Arches. Summers is also dry and hot season, so the dehydration is a real concern. On the other hand, winter worked well for my visits. As the snow is rare occurrence, even in February you can go for long hikes on slickrock (which turns out not to be all that slick). Spring offers green plants, contrasting well with the Navajo sandstone. I am yet to see what fall brings to Moab.
The off-road vehicle is the must, even in the National Parks. A large number of off-road trails is available. The unimproved roads will take you into unique places where most tourist won't ever go. One of those places in the Hurrah Pass featured on the image below. The views are breath taking, and you might not see more than one more car the whole trip.
Any time of the day and any lens is appropriate to shoot in Moab. Basically, wherever you turn, the great images can be taken. The problem is, most of them were already taken millions of time, so you need to work really hard to distinguis yourself from the rest. Thus, skip the Mesa Arch and the Delicate Arch. Scout your sunset and sunrise locations during the day. Especially sunset is worth it, when the red rock glows in the warm light, crating really unearth effect. Use wide-angle lens for sweeping landscapes, and macro lens to focus on details in rock and plants. And then takeout you telephoto for a different look ;).
Use the polarizer and/or the graduated density filter to retain the richness of blue sky, with rare clouds. The sky will contrast well with the red rock, so will green grass, adding interest to the images.
The one piece of advice – use an object to show the scale. Human silhouette, or a car- anything which will help imagine vastness of Utah landscape.
I am looking forward going back to Moab this year again.