"Growing The Visionmonger" by Corwin Hiebert – e-book review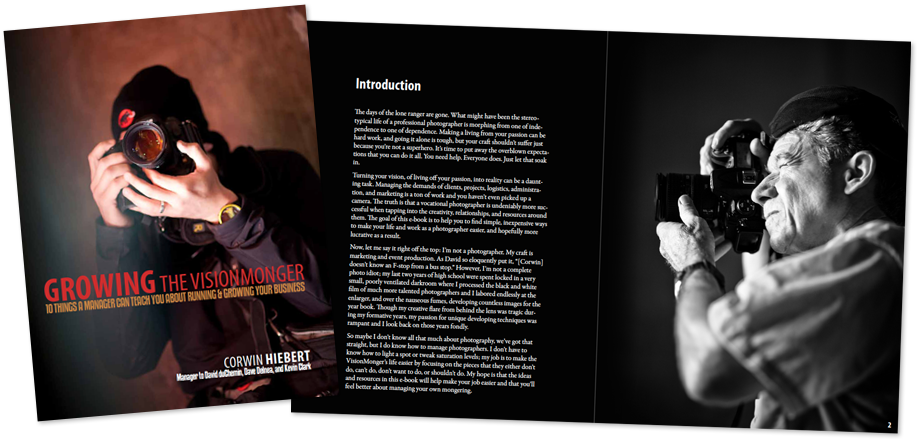 Corwin Hiebert is an important person behind the success of "Craft and Vision" e-book publishing company. He is not a photographer himself, although some of his images can be seen in his "Your Creative Mix" e-book published last month. This e-book is full of great advice on working by yourself and to team with other artists to keep your creative juices flowing and your art fresh and in demand. I wrote a review of this e-book on blog shortly after the release. Today, I would like to go back to Corwin Hiebert's first e-book published in "Craft and Vision", which is "Growing the Visionmonger". I did not have a chance to read it before and picked it up with the "Your Creative Mix".
"Growing the Visionmonger" was important historically, as it was the first e-book in Craft and Vision not written by David DuChemin and opened a whole new era in the company. The long, full title of the e-book is "Growing the Visionmonger, 10 Things a Manager Can Teach You About Running & Growing Your Business". This better describes what the e-book is about. The author is a manager to such known successful photographers as above mentioned David DuChemin, Kevin Clark and Dave Dalnea, so there is no doubt he is qualified to give advice on the subject. And since not all photographers are at the stage that they need a full time manager, knowing a few tricks surely will help everybody to get mundane tasks done more efficiently.
The e-book is in a form of 10 chapters, each tackling just one idea. Among them are tips on setting priorities, creating and maintaining relationships with clients, organizing meetings which don't waste everybody's time, consulting with a lawyer and preparing the Memorandum of Understanding, getting feedback on your services. These are things to which many photographers, especially those just starting, do not pay sufficient attention. For each chapter, there are things to do, like a homework tasks called "Action Points". Many of those are separated – different ones for those just supplementing their income by their photography and those doing it professionally. The great value in the e-book comes from advice on particular software solutions to streamline many of the typical tasks. You can read how to do e-mail more efficiently, for example. My favorite quote is "Remeber to trust the monkey like MailChimp or Survey Monkey".
This is a rather short e-book, just 29 pages. It takes probably no more then half an hour to read it, but far more to think it through and then start working on the ideas and suggestions. There are no discount codes for this e-book at this time. But for the $5, "Growing The Visionmonger" is still a great value. Regardless if photography is your weekend hobby or everyday job, I am sure you will find here a tip or two to help you to easier achieve your goals of earning money from your craft. And realize why Tuesday is the best day to do business.
The links in this post are affiliate links. See details of our affiliate policy here.