How to – workflow for large set of photos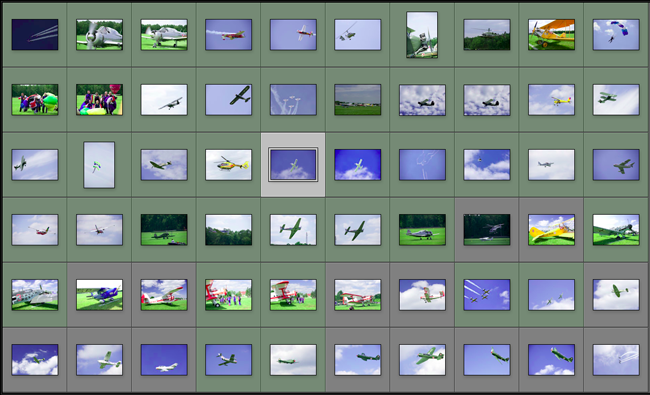 I am one happy snapper. A two-day air picnic I went recently resulted in 3206 images. Let me share with you, how I dealt with so many files from the moment they were shot. And add on the side, that it took me a week to organize it all.
I have only two 8 Gb cards. It meant quick download in the field and formatting. When the card in the camera was getting full, I was just downloading them on one of the laptops we had with us, and used the other card for shooting. Not very good choice, because when the card was getting full, I was loosing a bit of time to change and format the card before getting back to shoot. Point for improvement here.
After the event, I had all the images in one folder on the computer. I used the driving time back home to import them all into Lightroom, keyworded with general description of the event.
The first look through the photos was used to find obviously out of focus, or badly composed images, with missing parts of planes for example. I was just browsing through in Grid view, and using Reject (X on keyboard) to mark unwanted images. At the same time, I created the Collection Set for the whole event, and Collections for each type of plane (in general terms, I divided my event into sub-sets of photos, so it is easier to pick the best, representative images for each subunit). I keyworded the images in Collections with additional keywords- I was able for example to batch add the plane type, colors etc.
The second look was already when all the images were placed in respective Collections. Here, I couldn't use Reject anymore- the mark will not show in Folders view, so I wouldn't be able to delete from disk unwanted images. I used rating of 1 (1 on keyboard) to mark those rejected images. At this step, I was checking each image magnified 1:1 for sharpness inspection. Also, I started to chose my picks. Again, I could have used Picked (P on keyboard) but it would not show in any other view of the Catalog or Folder, nor would I be able to make a Smart Collection of favorites. I used the Color Green instead (8 on keyboard, different colors are keyboard shortcuts 6 to 9). I believe the fact that Picked and Rejected images are not recognized in all views it is this one thing which changed from Lightroom 1.
After I was done, I went to Folder view, chose all the images marked with 1 and deleted them from hard drive. If I deleted them in the Collection view, they would be still visible on hard drive and in Lightroom.
At this point, when I have all unsharp, uninteresting images removed, it was probably high time to archive all the remaining images on the DVDs. I was left with less then a half of all images I shot. 1493 images, to be exact.
After that, me and my husband went and each chose its picks, the best, most interesting, representative images. From those, I made separate Collections to send out images to stock (mostly editorial), to personal gallery, Facebook, blog. I was down from 3206 to only 67 images, which is already a manageable amount for a post-processing. Most of those picks you can see up in the grid view from Lightroom.
Is your workflow similar to this? Would you do some of steps differently? Share your thoughts in the comments or link o your blog entry!