"Iceland – a monograph" by David DuChemin – e-book review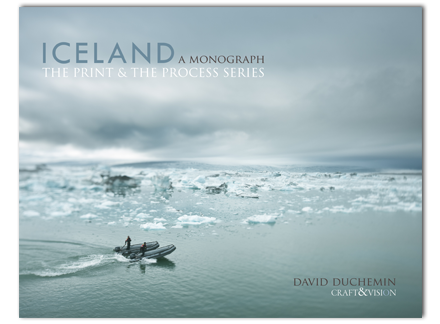 When I saw the first announcement of the next e-book in Print and Process series, "Iceland- a monograph" by David DuChemin, I have to admit I had some presumptions on how it is going to look like. As I also download David DuChemin wallpapers, September image gave me an idea on Iceland portfolio, and I expected photographs kept in the same, cool tones. Also, at first sight, the wallpaper image showed a single electrical pole on the border of sky and water. But only after I looked at it more closely, I noticed blurred sides, and I thought about tilt-shift which David DuChemin bought recently and was exploring. So my expectations were to find selectively focused images in toned blues. After keeping same, creative coloring in "Venice" and "Safari" monograph, and including a Lightroom preset in the "Safari", I expected to see the blue split tone preset in this e-book, too. With all of this, I was ready to open and read a new release. And, kudos to author, I was only partially right!
First, the images presented in "Iceland" are single, concise body of work, which is a bit different then his previous e-books in the series. The photographs are strongly connected by geographical place, wide angle tilt-shift lens (with its shallow depth of field and selective focus) and post-processing. Even though two different tonalities of images were used (and there are two Lightroom presets available for download!), they all go together very well. There is 39 images, exploring the vastness of Iceland landscape and barely any people with exception of photographers. The abandoned buildings only add to the feeling of solitude- and it is quite hard to find places like that Europe. But on the other hand, David DuChemin was already able to portray the most touristic place – Venice, an a lonely, deserted city.
Starting from saying that "teaching keeps me learning" the author gets into the lessons on photography prepared for this volume. And there is quite a few here. There are some thoughts on organization of this type of a trip and what gear to pack, the convincing lecture on the need of the tripod, and some great tips and advice on creative use of tilt-shift lens and especially neutral grad filters. In fact, he was the first to mention the color cast on so called "neutral" filters, something which frustrated me the first time I started to use them. And the way David DuChemin plays with sandwiching grad filters- it is worth reading and exploring.
The e-book ends with a image by image description of why and how they were taken, and what were the particular challenges with any of them. It is a great learning source for every photographer.
Those 65 pages of "Iceland- a monograph" is not only yet another occasion to take a look on David DuChemin photography, which he keeps always fresh, not repeating same ideas and compositions. It is also a great source on creative ideas and techniques to improve your photography. I would say- 5$ well spend.
Here what Craft and Vision says about this e-book:
ICELAND, A Monograph – The Print & The Process is the latest eBook by David duChemin. The Print & The Process series is the perfect format to show David's photographic vision and creative process behind his recent trip to one of the world's most stunning places. Moved by the incredible landscapes, the vastness of the open spaces, and the extreme weather, David created photographs that first and foremost inspired him.
ICELAND, A Monograph, is a showcase of exceptional photographs and it holds nothing back with respect to how the images were created. 

This eBook is the first look at 39 of the images David created in Iceland. The curtain is pulled back on technique – like how he used three different ND filters to work through an exposure problem, as well as the more internal processes related to creation – like finding inspiration and working through the frustrations of finding one's vision. The process and thinking behind those photographs are explained from a technical angle and the discussion of post-processing includes two free downloadable Adobe Lightroom Presets. For you travelers, David also briefly discusses logistics involved in the travel and supporting the digital workflow while tenting his way through Iceland.
ICELAND, A Monograph – The Print & The Process is larger than usual – a full 65 spreads of photographs and insights that will inspire as you develop your own craft. This is easily one of the books about which we are the proudest! The downloadable PDF is just $5USD.

And, as always with a new e-book release, there are some sweet discounts available. Use the promotional code ICE4 when you checkout, and you can have the PDF version of "ICELAND, A Monograph" for only $4 OR use the code ICE20 to get 20% off when you buy 5 or more PDF ebooks from the Craft & Vision collection. And there is some good stuff there to choose from.
These codes expire at 11:59pm PST September 12, 2010.
Disclosure- some of the links in this post are affiliate links.