Iowa City Worldwide Photowalk 2011
Yesterday, as many of you, I suppose, I participated in Fourth Scott Kelby Worldwide Photo Walk. On the Photo Walk website, the final stats were 1102 places around the world having photo walks this weekend, with 22815 people taking part in this cool event.
We had a blast here, in Iowa City. Well, technically, it was not in town. The walk was organized by Bruce Thayer, and co-lead with Kaylyn Hoskins. Our nature walk took us through Raptor Center and to the spill-way connecting Lake McBride with Coralville Lake. The time of the year turned out to be perfect, with the sufficient fall colors already to make for amazing color images. And with sun coming down in the late afternoon, the light was not bad either. After the walk, some of us went for the social at Brown Bottle, well known Italian place in the neighborhood. We talked photography, Amish and whatever else came to mind. What a great evening! We got to know so many new people, with quite a few in the walk just having bought their first serious camera!
Thanks to Scott Kelby and the rest of the team for organizing the Worldwide Photo Walk yet another time. And most of all- thanks to our leader and co-leader for putting our local walk together.
Stay tuned for some of my photo walk pictures later this week, when I go through my shots picking up the contest submission.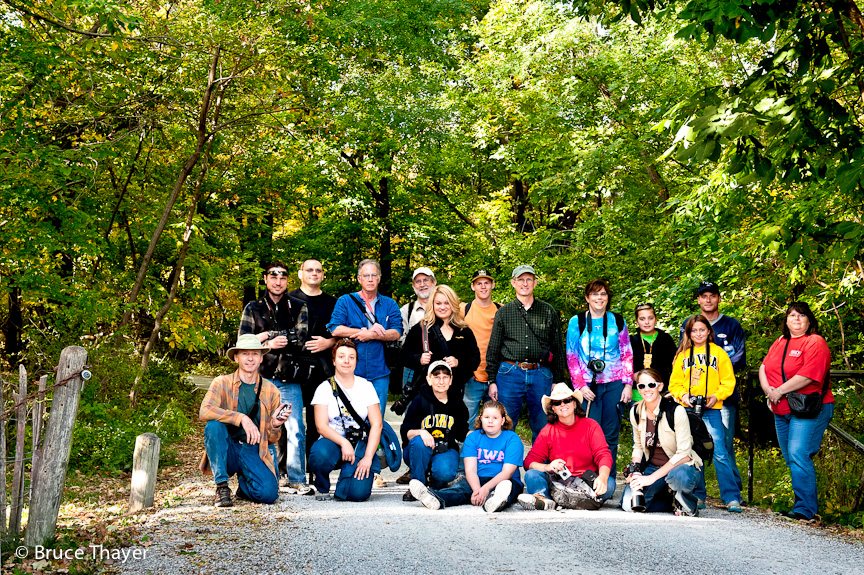 Photo courtesy of Bruce Thayer