"Microstock money shots" by Ellen Boughn – book review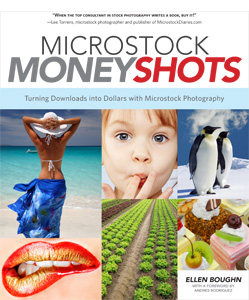 I got the chance to get Ellen's Boughn recent book, "Microsotock money shots" as a prize in the contest at Lee Torrnes blog, MicrostockDiaries.com. I was out of the country, so it took a while before I got it in my hands. And then, my first reaction was…. a little disappointment. I expected this new microsotock bible to look more like – a bible- large, bulky volume. What I looked at was a regular size book. I soon changed my mind.
The book has all the necessary information in it, and then some. Ellen's Boughn style is concise, but she is not holding back on any advise. The book starts from the history of stock and microstock, how to start with the first submission, goes on with a list of subjects to shot (very helpful section, containing also tips on what not to shoot any more, and for each each subject, how to make pictures better sellable). There is a chapter on working with models, and big production shots, and some legal info, as well as many tips on keywording.
The book has very modern, spacious layout, which makes it easy to read (or find information later for reference). What I especially like about the book are the photographs. The authentic stock images are used throughout the text, which probably helped the market greatly, but also each of them is accompanied by a caption providing additional shooting tips and what makes the image desirable to buyers (or not). The images serve more like short "case studies". And there is plenty of them.
If you are a microstock seasoned pro or just thinking about it, Ellen's Boughn "Microsotock money shots" will be of use to you. Even if you know all the info already, maybe it will give you some fresh shooting ideas for a next best selling image. I know I did.