"Nikon 5000 from snapshots to great shots" book review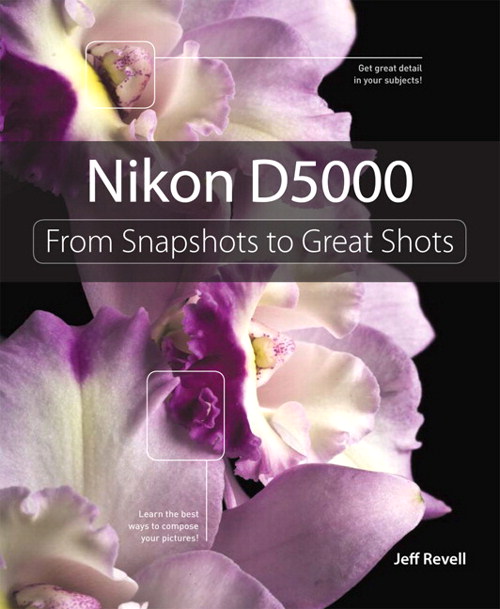 Several weeks ago, I was lucky winner of a signed copy of Jeff Revell "Nikon D5000 From snapshots to great shots" in Twitter contest. My husband was giving me hard time about it, as I do not have and probably will never have Nikon 5000. As an excuse, let me just mention that his brother got Nikon 5000 not so long ago. But since I  had a book at hand, I decided to read it and review it. Interestingly, I really enjoyed it, even though I new most of the stuff.  Additionally, I learned some stuff I could use in my D300 and some stuff I could use in my D40x ;) (I know, but I am such no-read-manuals person).
What makes the book such a good read is the fact that it is written in plain English, easily understandable. Important for somebody who is not a native speaker. Plus, it is certainly not a manual. It is so much more. What the book does, is introduces you to all the basics concepts of digital photography, at the same time familiarizing you with how to set your camera (in this case Nikon D5000) to try doing those things yourself. It talks about exposure, shutter speed and aperture, and how they effect action and depth of field in your images, while pointing you at the settings in your camera. It also talks about more advanced stuff, like Hyperfocal Distance, shows how to make HDR images or panoramas. The pointers for taking sports, landscape and portraits are given in detail. Some basic composition tips are included, as well as using on camera flash. And the video feature is discussed in bonus chapter ;). As far as I can tell, nothing is missing!
The book is something I had available when I got my first dSLR. I was not familiar with any of the photo lingo, like Exposure Compensation or Rule of Thirds . I was reading the handbooks for the beginners, learning the basics, while at the same time having to consult the manual how to set things in my Nikon D40x (and learning what is possible and what is not). "From snapshots to great shots" provides both at the same time. It brings you up to speed with the secrets of good photography at now time.
My favorite part of the book were "Poring over the picture". I enjoy this type of teaching experience, where the photograph is explained, how was it taken and why this way, plus the images were great as well (and large, large!). I think that the paper quality or texture did not do them the justice, sometimes the colors were not properly rendered.
Overall- good idea for beginners getting their new DSLR – not only D5000. The series includes Canon 50D,Canon Rebel T1i/500D, and Nikon 3000 is already in writing.
The links in this post are affiliate links. See details of our affiliate policy here.