Passport Sling camera bag from Lowepro – a review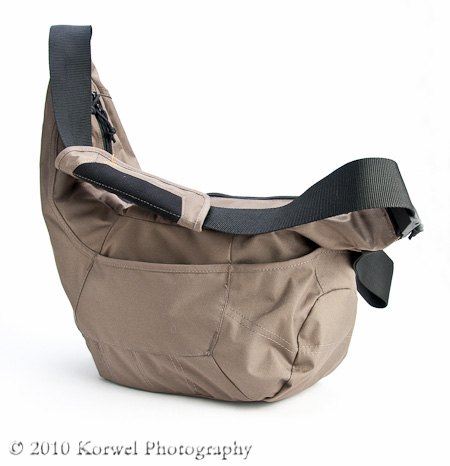 I saw this bag in Best Buy store around Christmas, and fall in love at the first sight. A month later, I finally bought it. After a week of using it, I am ready to write down some thoughts about it. Let me introduce you to the Passport Sling camera bag from Lowepro, the ideal bag not only for a photographer.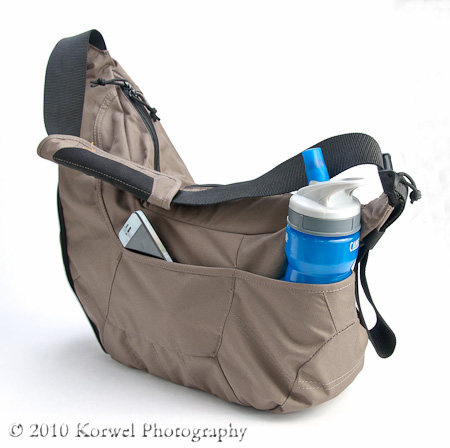 The way the bag is designed is what draw me to it the first time. It matches me and my dressing style. It has a very contemporary look, and doesn't shout there is a camera inside. It looks like any other sling bag. This is a type of bag I need when I go for a professional meeting or annual New York trip, where I spend hour wondering around big cities and really do not want to draw unnecessary attention to myself (or my possession). It is also the right size to keep camera, couple of lenses, wallet, tissues, maybe a letter-size notepad. The two smaller side pockets are perfect for wallet, cell phone, maybe a spare card or a filter- to have them handy. And a large side pocket – I use it for my water bottle, but I am sure there is a number of other possibilities. Another, bigger lens, maybe? It is perfect for larger, more bulky objects. And did I mention that you can expand the main compartment for additional space?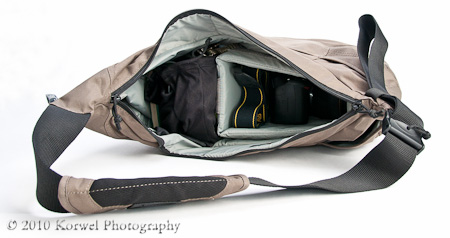 I do not have a feeling yet how durable the fabric is, I had it for too short. But it looks really solid. I bought the bag in "mica" color, which looked more beige on photos, and it turned out to brown with a bit of green tint, but the color is neutral. You can also get it blue or black.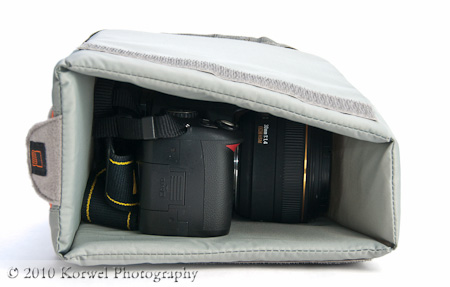 I do have a few complains, though. The side pockets are a bit too shallow, and although I keep my wallet and cell phone there, I am a bit uneasy about them falling out. But that is easy to fix, and just put those items inside the bag. The other one is a bit more serious. The camera pouch is not a "pro grade". What I mean by that is that I can stick there any of my cameras- Nikon D40x or Nikon D300, but only with a short lens- like 35 mm. D300 with 18-200 mm zoom will just not fit in along the pouch, although I was able to put it in on its back. Not perfect, as I had to lift camera by the lens.
Overall, I am very happy with my purchase. I was using it whole week as my everyday bag, and it was very functional. This weekend, I used it as a photowalk bag, and it worked great, too. I would recommended it to anybody looking for a camera bag to be a bit more than just that.
UPDATE August 20, 2012- I had an accident with sweet and sticky food over the weekend, and was wondering how to clean my Passport Sling camera bag to get rid of it. I decided it should survive washing machine just fine, along with my jeans. And it did, as it did went just fine through a dryer! Very durable and easy to clean, if necessary.
You can learn more about the bag from LowePro YouTube video. You can also buy it on Amazon.
Disclaimer- there are some affiliate links in the post, but I received nothing from Lowepro for writing this review. I simply love the product, and wanted to share.