Passport, to better photos that is
Have you ever got that feeling that the colors on the picture you've just spent 30 minutes fixing still aren't really right? That even multiple white balance adjustments can't get it right? It's usually most pronounced on skin tones, but happens everywhere within the picture. Now there's app for… Cut that out – now there is a way to fix that.
X-Rite introduced new product in their line of color management helpers. It's called ColorChecker Passport. It comes in nice, very sturdy plastic case that saves it from elements and allows you to take it virtually everywhere. it also come with piece of nice software that  simplifies the adjustment process greatly.
Now all you have to do is shoot a photo of the passport and then process it in supplied software. X-Rite suggests to take two shots, one in full light, one in shadows, but that aren't necessary, especially when you shoot in the studio. The software will then create a camera profile that you can applied to all pictures and bring them up to true colors.
When I tried it first time I was really curious about how it will work. Is there really a difference? Check it out: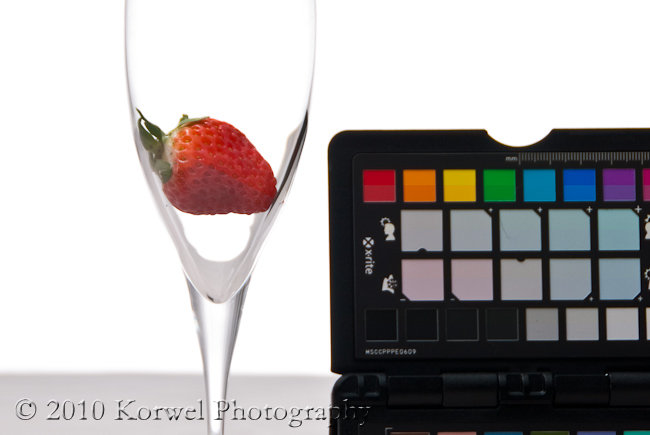 The upper half of strawberry and upper halves of all colored squares show the same picture with applied camera profile generated based on this very shot. The lower halves show the image straight from the camera. I definitely see the difference. And since doing the correction is so fast and easy it became a part of my routine every time I'm taking pictures right now.