Photographer organized with "The Photographer's Workflow" by Gavin Gough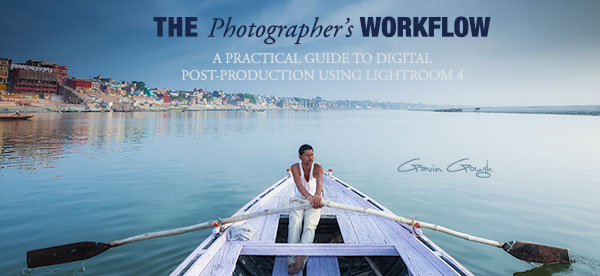 UPDATE:
Only $20 during the month of January when you use the code photowork33jan. Start New Year from organizing your images with "The photographer's workflow".
Workflow is such a technical term, it almost doesn't fit the creative and free flowing mind of photographers. However, with the volume of digital photographs each one of us is creating almost daily, it is good to have some strategy to deal with them- in terms of not only post-processing, but also organizing, storing and most importantly- backing them up. And in this, many task are really repetitive and boring, so streamlining can make a huge difference. I know how I struggle to edit down, post-process and export to on-line gallery our vacation photos, and it takes me at least several evenings! Thus, I enjoy reading about how other, more experience photographers organize their workflow, when they need to cull thousands of images in few days or even hours, and later be able to find this one image quickly. And while I feel that many choices are very personal, I would quite often pick a tip or two to incorporate in my process. I do not feel my workflow fit my need yet and is still work in progress, and I am open to learn from those who do photography for a living.

I picked up with great interest new e-book by Gavin Gough "The Photographer's Workflow". It is a very comprehensive book. There are many blog posts or magazine articles focusing on just one aspect of workflow, mostly on backing up ot post-processing images. In his e-book, Gavin Gough spends 129 pages to cover all the steps of the professional photographer workflow. He uses his own process to describe all the details, down to software and hardware choices. In many places, alternative options are provioded along the author's favorite, if you would like to try something else.
One thing you need to be aware up front, though, is that "The Photographer's Workflow" is utilizing the Lightroom 4 to build a workflow, and with heavy use of Smart Collections at one of steps, it might not be easily translated into other software. At the same time, author does not assume that all the readers are familiar with this particular software, and while it might not be your only Lightroom manual you will ever need, everything necessary to take full advantage of the e-book is explained in great detail, with multiple screen captures, so it can be easily followed even if you have no previous Lightroom experience.
In more detail, you will find in "The Photographer's Workflow" chapters on backup strategy, storage (file naming and catalog structure), editing (labels, flags etc.), color management, keywording and adding other IPTC information, post-processing and exporting. All those chapters contain wealth of practical ideas how to design your own workflow around author's, the one to meet your needs. And in the middle of all of this, there is a hidden treasure, a great chapter with very practical tips for photographers in the field, especially for travel photographers.
"The Photographer's Workflow" certainly is not a light read, and I would hardly recommend anybody to read it in one evening. At the same time, I think it is a must-read for photographers at all levels, professionals and amateurs alike (and there is a simplified workflow outlined in one of the chapters!). And while you don't need to incorporate every single step into your own workflow, at least giving a thought to things you dismiss will have value for you. It is helpful that Gavin Gough writing style does not impose all his solutions on you, they are just given as suggestions, and it is for you to decide what to implement, what to adapt, and what to dismiss.
"The Photographer's Workflow" is not just an e-book. There is a lot of additional content, including links to suggested software and hardware, video tutorials visually explaining various steps, and a large set (almost 100) of Lightroom presets for various modules, including 65 for basic and more creative, artistic adjustments in Develop module. There is even an example Lightroom catalog with Collection structure which you can use to get you started on implementing Gavin Gough workflow right away. And it is all available for just $30, as instand download of pdf file. Click here to purchase now. You will find it really useful. I know I did.
The links in this post are affiliate links. See details of our affiliate policy here.