"The power of black and white" by Piet Van den Eynde- an e-book review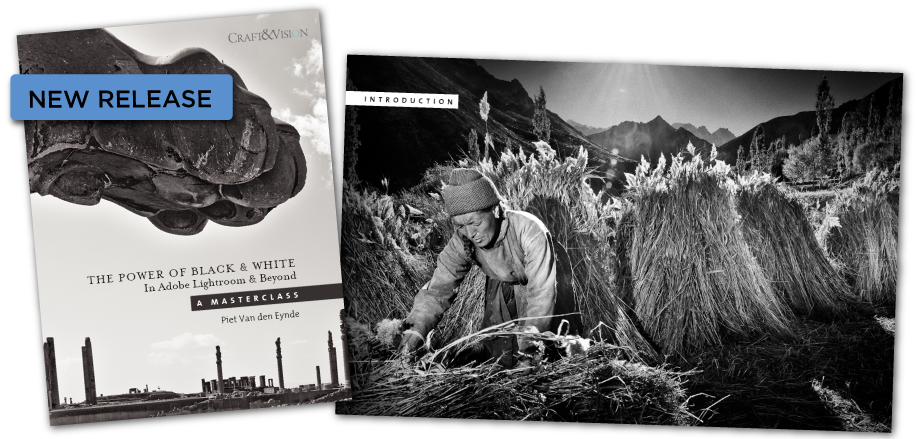 The first leaks about this e-book really got my attention. A 100 pages e-book? Then I discovered that it is going to be about Black and White images. And I was wondering, well, after Andrew Gibson's trilogy on B&W, what else is left to say, and on 100 pages?
It turns out there is, and Piet Van den Eynde does great job at it. "The power of Black and White in Adobe Lightroom & Beyond" is not a repetition or rephrase of other e-books. It talks in depth not only about creating exceptional black and white images. It shows in great detail how it can all be done in Lightroom (with a disclaimer that sometimes it is quicker/easier to use Photoshop :) ). It starts with some great tips on workflow. I for example loved the idea of naming the Virtual Copies with B&W mark for easier finding.
There are chapters in the e-book describing the conversion itself, and tweaking with adjustment brush or graduated filters, with a number of both technical and creative tips. You do not need to be familiar with LIghtroom to be able to follow the text. Those chapters are accompanied by "Case studies", which show how author achieved the final effect with step by step instructions. I especially liked the number of local adjustments, with explanation why each of them where done. It was a lesson on details and composition by itself! The only complaint for this part is that those images are not available for download and try-yourself-at-home, as some other authors do.
You can read in "The power of Black and White in Adobe Lightroom & Beyond" about advantages of Lightroom presets, plug-ins like Silver Efex Pro or Alien Skin Exposure, using HDR technique (and some software to do that) and there are even few sentences about printing. The author talks about putting finishing touches on your image- like tinting, selective color or a custom frame. I never thought that a frame can serve as your watermark!
So, do not get discouraged by the 100 pages. "The power of Black and White in Adobe Lightroom & Beyond" is a great, light read with a lot of illustrations. The e-book is full of author's own collection of travel images from exotic places, showing in black and white their beauty and struggle. And it is a very comprehensive guide on the still alive art of black and white photography.
Something about the author:
Piet Van den Eynde is a Belgian freelance photographer. He also writes books, magazine articles and gives training about digital photography and post-processing with Adobe Lightroom and Adobe Photoshop.
As usual, if you use the promotional code BWLIGHT4 when you checkout, you can have "The Power of Black and White in Adobe Lightroom & Beyond for only $4 or you can use the code BWLIGHT20 to get 20% off when you buy 5 or more PDF e-books from the Craft & Vision collection. These codes expire at 11:59pm PST April 16, 2011.
And this time, there is even more then that! If you buy "The power of Black and White in Adobe Lightroom & Beyond" between April 12-16, 2012 you are eligible to win 3 full versions of Silver Efex Pro from Nik!
Disclaimer- some links in this post are affiliate links.