This week around the photo Web
Usually, when I find an article I think is worth sharing, I will either put it on Twitter right away, or store in Buffer for sharing the following week. Sometimes, however, I will read a series of post on same or similar subject, and it feels like they need to be shared together.
During the holidays, it was quite quiet in the photographic blogosphere, and not much interesting and thought provoking posts were published. The notable exception are those three below.
I almost ignored this post entirely when I saw it first time. Felt too artsy-fartsy to me at first glance. Then, I read it, but it still did not resonate. And yet, it stayed with me for the whole day, and I had to go back to read it again, and think about, before I realized how true it was. Sometimes, an image is just an image, regardless how well executed and creative. And there is nothing wrong with it.
Radek Kozak on what is needed to be an artist
Radek wrote this inspired by a book he read. The post starts from asking some hard, needing some deep inside consideration questions about the character traits possibly needed to be an artists. But I mostly like where his post is ending, well, yes, you need to be a bit predisposed, but if you do not anything, do not create, it will all be for nothing. I guess it reminds me of Steve Goslings webinar on creativity.
The link is just to part four, which is in a sense a conclusion and contains links to previous posts in the series. The series is pretty heavy and altogether a lot of content to read, but there is a lot of good stuff there. David combines into those posts all what he thinks are required elements for successful creative life. Things like craft and sources of inspiration, persistence and intention, and how it all comes together in the creative process. Unlike what's in Radek posts, all those things are not given to us at birth as parts of character, it is rather the environment we create for ourselves.
If you feel like you are in a mood for some more fancy, yet thought provoking read to make you stop and consider your photography and goals for the New Year, I suggest you take a look at those articles.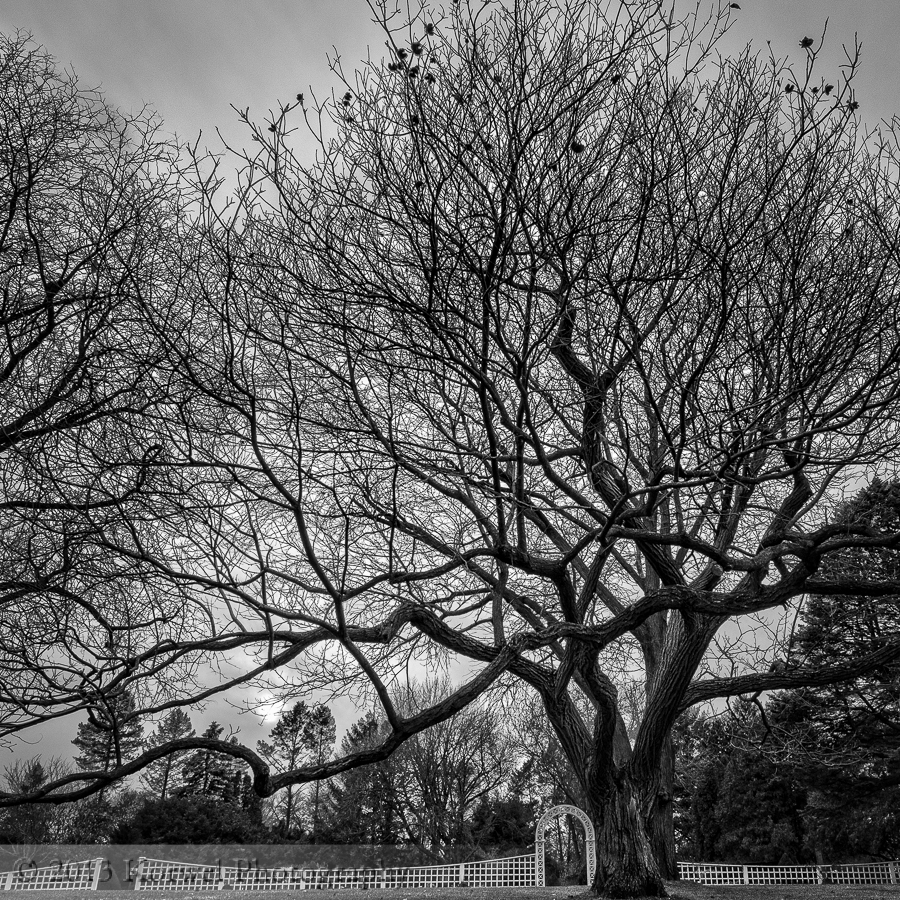 Today's image is of an old tree on Brucemore grounds, the old estate in Cedar Rapids which we discovered just recently and had a chance to spent great afternoon exploring. It is an HDR, which I love for the dramatic tree, and yet I was not able to get white balance to tell the story I wanted to show. I gave up and decided to make black and white conversion, which helped highlight the "gesture" I see in this image, and not drawing attention to the green grass, the only color element at the bottom of the frame.