Tuesday read – "Making the Print" by Martin Bailey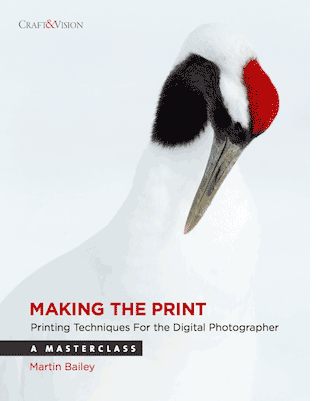 The author
"Making the Print" by Martin Bailey was announced for the first time in Craft & Vision free e-book – a collection of essays written by all authors associated with the company. Among them was Martin Bailey and promise of e-book on printing in January. I knew Martin Bailey before from his beautiful wild-life and landscapes from Japan, where he leaves, and his podcast about all things photography. I guess I did not know how passionate printer he is, until I browsed through his e-book when it finally arrived.
The premise
I was around photography all my life. My dad always had a camera in his hands, documenting our family. At first, he was developing the black and white film in bathroom changed over to darkroom. I still remember mixing chemicals, cutting masks, doding and burning techniques. The process was extremely satisfying, especially after he got me a camera and I could work on my own images.
Years passed, and with the color film, the process got to complicated too do it at home. We were just dropping off the film in the commercial lab.
Then, digital photography happened, and I moved on another continent, and we stopped printing at all. The photos were being uploaded onto virtual gallery or e-mailed. We almost forgot how the print feels- and what it is.
Just few years ago, when I started seriously (or consciously) taking photographs, the trend continued. I was post-processing them and posting on my blog. Not many were printed. I print some to enter those contest which still require prints and for home decor. With such low needs, I never seriously considered printing my own images. I was sending them off to the one of big on-line commercial labs. And I was loosing the feel of satisfaction and accomplishment by attending to my images from the moment they are registered in the camera, to holding a finished beautiful print on fine art paper in my hands.
Until I read "Making the Print – Printing Techniques for Digital Photographer" by Martin Bailey.
The e-book
I am sure many of you can see themselves in my story. If you have not hold a print in your hands for a long time, and lost the idea of photography as a hard copy, image on fine art paper you can hold in hand, you should read "Making the Print – Printing Techniques for Digital Photographer" by Martin Bailey. And if you never printed images at home, maybe the passion coming from the pages of this e-book will make you at least want to try. Right there, on you office printer, following the advice in the e-book, before you invest in real equipment.
Martin starts "Making the Print" from the list of points to consider before buying a printer and photographic paper. He gives some recommendations to his favorite products, at the same time letting you chose what you think is right for your needs. He follows up with lesson on histogram and basic exposure adjustment to ensure that your first print has all tonal range and looks like what you see on the screen. From there, he moves into intermediate tasks, introducing you to printer profiles, sharpening and some software you might be using for your printing. He talks equally about Lightroom, Photoshop and Aperture, but he is partial to Lightroom. He simply states "it just works". I totally agree with it, and many people still don't understand or appreciate Lightroom as just the right tool for photographers.
The last part of "Making the Print" is for the most advanced, but the most interesting at the same time. Here are techniques for total control freaks- like calibration of monitor, printer and even camera (well, it is more like correcting white balance). With total color management explained, he discusses soft proofing (in Photoshop only, as Lightroom 4 beta, first version with soft proofing was just released last week). He stresses the importance of sharpening, talks about resizing for large format prints, adds some more information on fine art papers. There are some tips on preparing prints for gallery exhibition. And my most favorite part of the "Making the Print" – step by step, illustrated instruction on creating the canvas wrap at home! I don't think I would try this at home any time soon but it was a fascinating read.
"Making the Print" ends with a resource section, collection of links to products, many with discount coupons.
It is almost impossible not to achieve a great printing experience at home after reading and following Martin Baileys instructions in "Making the Print – Printing Techniques for Digital Photographer". In fact, now the process seems to me to be quite straightforward, after it was all explained to me in simple language. If you would like to check for yourself, click here to buy Martin's Bailey "Making the Print".
The value
"Making the print – Printing Techniques for the Digital Photographer (A Masterclass)" by Martin Bailey is now available at Craft & Vision website as an instant pdf download for just $5. But if you make a purchase by Saturday, January 21 11:59 pm, and use code PRINT4 at checkout you will get "Making the Print" for just $4! Or use code PRINT20 to get 20% off when you buy 5 or more e-books from ever-growing Craft & Vision collection. So don't wait, click to purchase here.
The links in this post are affiliate links. I was also provided a free review copy of the e-book. See details of our affiliate policy here.