Dodging and burning demystified with new e-book by Piet Van Den Eynde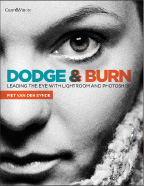 In the field, the goal of a photographer is to capture the image which will, in the best possible way, evoke the emotions and tell the story the photographer wants his viewer to experience. In the post processing, the goal is to make sure that the viewers eye is drawn to just the right spots in the image, that the main subject is recognized but no other important element missed. This is, in my opinion, what separates amateur from experience photographers- skillful use of post-processing techniques of dodging and burning, meaning lightening and darkening selected, usually small areas in the image, to ensure that image is read as intended.
Dodging and burning is an art by itself, requiring recognizing which areas to touch, how much, and with what tools. The first two decisions are very subjective and require a lot of practice, but for the last- there is "Dodge and Burn" by Piet Van Den Eynde. It is a very comprehensive e-book with almost 90 double-page spreads devoted to various tools in Lightroom 4, Photoshop CS6, and Nik Software plug-ins. The author lists the various tools and ways to do dodging and burning in each software, as there is always more than way way to do things. But he also explains in detail how to use those tools, when they work best and what are their limitations. You can also follow along, on the pages of the e-book or in the software, the post-processing done by Piet Van Den Eynde on 10 of his own images, which are also included in the e-book package. If you do not have any of the required programs, you can always download the trial versions on the manufacturer site!
The most interesting part of "Dodge and Burn" for me was the chapter devoted to Lightroom, which I use almost every day. I never realized that many sliders which are generally considered "global" adjustments, like Curves for example, can be used for quick "dodge and burn". For example, by touching selected tones, like Blacks or Highlights, you are, in a sense, doing "local" adjustments. This section was also a great tutorial on behavior of new Basic panel sliders in Lightroom 4.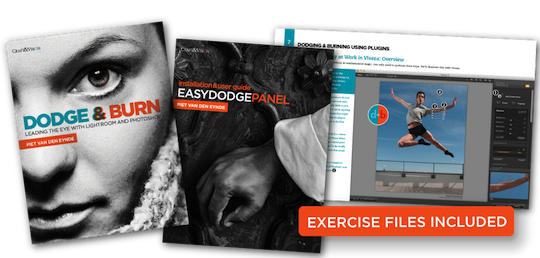 If you want to learn more about dodging and burning and take you photographs to the whole new level, you don't want to miss the "Dodge and Burn". Especially that it is not just an e-book what is offered. It is a whole package, and you can choose to buy the Lite or the Full versions.
The Light version contains the e-book, and simplified version of the custom Photoshop panel for dodging and burning with manual how to install it and use it.
Click here to purchase the Lite Version.
The Full version contains the e-book, exercise files (files and the Lightroom catalog for easy import), and full version of the custom Photoshop panel. If you are using Photoshop for your dodging and burning, you will want this tool! If you prefere to see how the panel works first, go to Piet Van Den Eynde web site and watch the video demonstration.
Click here to purchase Full version, but make sure you are aware of the discount codes below (for this version only!).
As for each new release, there is a special introductory offer. Purchase "Dodge and Burn", Full edition and use the code DODGE8 to pay just $8 for the full package, or use code DODGE20 to get 20% off your purchase of 5 or more e-books from ever growing Craft & Vision collection. But don't wait too long, buy now by clicking here, before the codes expire on July 22, 2012 at 11:59 pm PST.

Other e-books by Piet Van Den Eynde:
– "Making Light" part 1 and part 2 – on using small flashes to enhance your travel photography (and not only!)
– "The Power of black and white" – everything you need to know about converting images to black and white in Lightroom (and some plug-ins)
Disclaimer- I have received a free copy of the e-book for the review purpose. The links in this post are affiliate links. See details of affiliate policy here.