"Food photography: from snapshots to great shots" by Nicole S. Young – book review
The author
Nicole S. Young is a photographer, blogger and author. "Food photography" is her third book with Peachpit, after "Canon EOS 60D" and "Canon 7D", all in "From snapshot to great shots" best-selling series. She is also a stock photographer, and wrote not-so-long-ago a e-book on the subject for "Craft and Vision" titled "(Micro)stock: from passion to paycheck".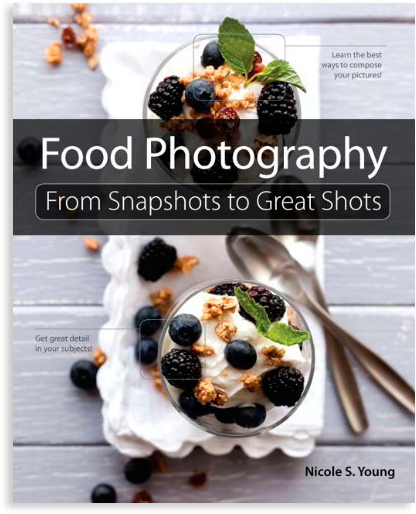 The book
"Food photography" is really a unique position on the market. It is a book introducing the basics of photography, styling and propping of food. It is perfect for food bloggers, stock or commercial photographers wanting to improve their food photographs.
The first two chapters are really the primer into photography itself. Subjects like white balance, exposure triangle, types of cameras and output files, lenses and other useful equipment are explained for beginners. Great for those just starting out, and reminder of many things to seasoned around their DSLRs. Very important, more advanced chapter three talks about light, color of light, directing the light with modifiers and additional equipment like reflectors or softboxes. Nicole Young talks not only about smart utilization of the natural light in the house, studio or on location, but also about manipulating the light with flashes or studio lights. The huge help in this and subsequent chapters are lighting schemes, which make it real easy to follow and re-create the scene in your own studio.
Chapter four is the first introduction to what the book is about- the tricks of the trade. Starting from shopping for food, to choosing the props, preparing and styling the food with mentioning all the necessary tools, this is the chapter where the magic of transforming snapshots of your dinner into real food photographs starts to happen. Nicole Young is not holding back on tricks on adding bulk to the dish, using fresh herbs, preparing your own tabletops and many others. And this is just the beginning.
Next chapter is what I really struggle with. It talks about compositional tools, rules of thirds, choosing the camera angle and position (vertical? horizontal?), aperture for depth of field, using lines and colors… The decision made regarding the composition are really artistic and cannot be described in simple rules to follow. I for example can never place "randomly" crumbs on the set to make it look natural. Or cannot decide, how much of the plate can be cut from the frame. This is something which needs to come from practice and experience, but Nicole Young's tips will put you to a good start.
Chapter six is devoted to post-processing techniques. Nicole Young is Help-Desk Specialist with the National Association of Photoshop Professionals, thus Photoshop is the software she chose. But most of the techniques can be adapted to Photoshop Elements, and some to Lightroom or Aperture (no layers capability in those programs, unfortunately). She presents in real simpel words very basic and more complicated, but effective techniques she uses in her workflow. I can imagine many of them are easy to automatize with Actions. I was quite surprised, how little steps are in her workflow and how complex some of the steps were. But I will surely explore some of her techniques, like adding a color pop or sharpening.
Each chapter starts with my favorite part: "Poring over image" section. In each, a couple of images are featured. Compositional and technical elements are highlighted to teach how each of them affects the final photograph. There is a wealth of practical information just here. And I have not mentioned yet the last chapter, seventh, full of behind the scenes photos and case studies. There is eight images here, described from the idea, set-up, preparation, styling and propping, lighting and post processing to the final image. In this chapter everything explained in previous parts of the book comes together. Nicole Young shows here each and every shot taken during the session, so you can see how lighting and composition changes to achieve better result from visualized at the beginning to the best photograph possible at the end.
One thing to mention is that Nicole Young's food photographs have a very unique style, making them easy to distinguish. They are bright, simple, clean, yet colorful. She uses white or pastel color tabletops, plain, white plates, simple shape silverware and minimum props. Unlike many contemporary food photographers, she doesn't overuse the overhead shots, and tries all possible angles, utilizing wide aperture and shallow depth of field to simplify composition. I really like this fresh and modern look of her images. Nicole was actually kind enough to let me post some of her images here on blog. Take a look by yourself what I mean. And, by the way, both images are in detail described in the book.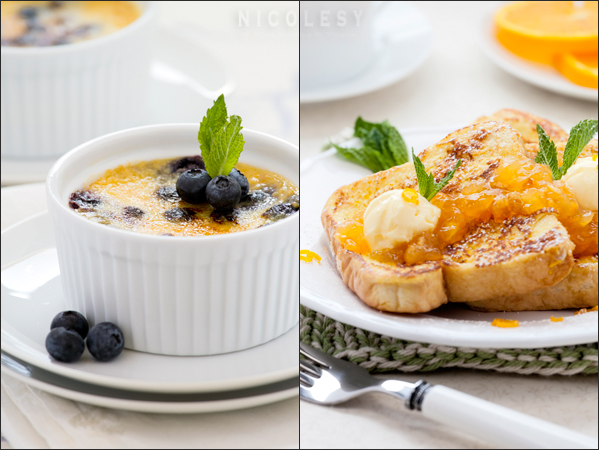 Each chapter ends with challenges, a homework tasks. It allows the reader to try the information in practice, and share the resulting images on the book's accompanying Flickr page.
Next step
If I have convinced you that "Food photography" is for you, you can get it in quite a few places. You can go to Amazon, and get the hardcopy or electronic, Kindle version. The Kindle edition reads great on you desktop computer, iPhone, iPad, and well, Kindle, of course. You can also go to Peachpit, and get the hardcopy or pdf version there. The electronic version from Peachpit can be read on your computer or in iBooks on your iPad or iPhone. I have to tell you, the images look great on the large computer screen! But if you are more traditional, I am sure you can just stop at your local bookstore on the way home.
The links in this post are affiliate liks. Read this post for full disclosure and affiliate policy.