Tuesday Read – create amazing portraits with "Forget mugshots" by David duChemin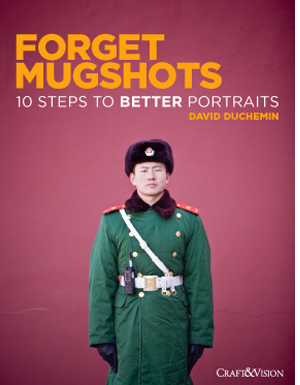 The newest release by David DuChemin is an e-book titled "Forget mugshots". Unlike all previous books by this author, this one is very photographic gender specific. I am sure a tip or two can be applied for landscape or product photography, yet the sole purpose of the e-book is to talk about portraits. And unlike many other books about portraits, you will not find here the ready recipes to apply, with light set up and poses and no camera settings. In fact, this e-book requires from you knowing a thing or two about your camera. Which doesn't mean that the advice from "Forget mugshots" will not be useful to beginners or point-and-shoot users. After all, David duChemin always says it is not about the gear!
What is important in "Forget mugshots" is that you devote time to get to know your subject and photograph them in unique, revealing moment. Not always smiling, but at the same time you will learn how to distinguish the real smile from the fake. Many other tips seem to be common knowledge, yet it is easily forgotten on the trip in exotic place when you just want to move quickly from location to location. And in fact, there is something more technical towards the end of the "Forget mugshots". David duChemin talks a bit about lens choices and f-stops, as important creative tools for portraits, highly influencing the final look of the photograph.
"Forget mugshots" has the form which suits David duChemin best- a list of ten tips, steps or concepts accompanied by "Creative Exercises" to push you to take the advice and put it in practice. What's new here are the "Portrait Profiles" providing closer look at some authors work several years of shooting for his clients with a more detailed description on how the image came about. The setting, light and lighting are equally important here as human interaction which led to the photo. And those interaction is what author stresses the most in the e-book. Without them, in his opinion, you will not be able to tell something real about the person. My favorite citation is that the purpose is not "to show how the person looks like, but what the person is like".
In "Forget mugshots" David duChemin shares also the secret of his amazing natural portraits – very handy, easily collapsible 5 in 1 light disc. It is my favorite tip and I cannot wait to come home and rediscover this underutilize accessory.
All in all, after reading "Forget mugshots" you should be able to go out and take portraits of strangers and even family, which reveal something about them as much as reveal something about you- the unforgettable portraits having a deeper meaning.
So don't wait, get "Forget mugshots" today. Right now, there is a special release week offer with the "Forget mugshots". For first five day, use the promotional code MUGSHOTS4 at checkout to get it for just $4 dollars. Or, you can use the promotional code MUGSHOTS20 to get 20% off when you buy 5 or more e-books from ever growing Craft & Vision collection. I am sure you can find there an e-book on just about any subject connected to photography. The codes expire at 11:59 pm on Saturday, March 17, 2012.

The links in this post are affiliate links. I have received a free copy of the e-book for the review purposes. See details of our affiliate policy here.