Tuesday Read – explore your options in "Shoot + Share" by Stuart Sipahigil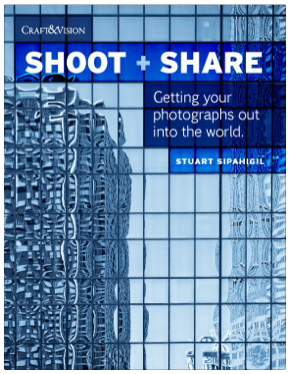 Those familiar with Craft & Vision e-books should remember Stuart Sipahigil. "Close to home. Finding great photographs in your own backyard." is still one of my all-time favorite e-books in the collection. In this e-book, Stuart proves with his images that even if you leave in the most boring place on Earth as Midwest seems compared to, for example, Utah, you can still create interesting photographs if you are open-minded.
This time, Stuart Sipahigil is back with great advice on yet another topic, suitable for both amateur and professional photographers alike. After all, we are all creating thousands of images in short amount of time with digital cameras, and then, what? Putting them out there, for other people to see, feel, maybe buy only makes sense.
"Shoot + Share. Getting your photographs out into the world" might bring to mind RC Conception's "Getting your photography on the Web", but there is nothing technical in Stuart Sipahigil's e-book. It is more "why" book than "how" book. On 58 double-page spreads, author wants you first and foremost to think why do you want to share your images with the world and who you want to see your images. Do you want your family to browse through your latests vacation photos, or do you want other photographers comment on your post-processing technique? Or maybe let the client choose his picks from the session? Defining the reason and your target audience will make it easier for you choose the best places to display your images for the world to see. This, in turn, will let you focus on these few places, instead of stretching yourself thin. Especially with options bing almost endless in this day and age.
The rest of the "Shoot + Share" lists for you, organized by type, places to show your work. Some are online services, like social media, photo sharing and hosting sites, online printing labs. He mentions prints, books and gallery exhibits. For me, the most surprising was classifying teaching photography classes and workshops as a way to share your images. It probably is more sharing the love of photography than really your images. But it makes sense, I just never thought about it this way. Somewhere in there, tips on editing your images and creating a portfolio with your viewers expectations in mind are buried.
The bottom line is- if you want to learn how to set up your blog or which on-line photography hosting site is best for you, there are better resources out there. The strength of "Shoot + Share" lies in the way you are being encouraged to think and strategize, choosing really the best outlet (or few) for your photographic style and needs. And with the lists of available options and Stuart Sipahigil sharing examples from his experience, saying what works for him and why, it turns into an easy task. The e-book is a great value for $5.
Don't wait to long to make up your mind. If you purchase "Shoot + Share" by 11:59pm (PST) April 28, 2012 and use the code SHARE4 at checkout, you will pay only $4! Use the code SHARE20 when you buy 5 and more e-books to get 20% off. It is a great as occasion to take a look at Craft & Vision ever growing collection of excellent, inexpensive e-books on all subjects photography. For the whole list of Craft & Vision titles, click here.

The links in this post are affiliate links. See details of our affiliate policy here.