Where sharpness comes from with "Finding focus" by Nicole S. Young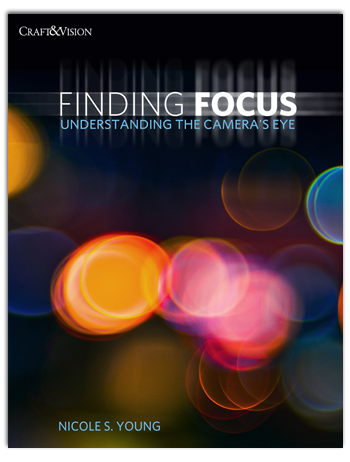 Have you ever wondered how different settings on your camera affect the sharpness of your image? You sure know about the aperture, but how about the shutter speed? ISO? focal length? Do you know anything about lens compression or hyperfocal distance? Does your camera have a Depth Preview button? And most importantly, do you know how to connect all those information to get a sharp image without losing the esthetics you envisioned? If you don't know how to answer any those questions, then the new e-book from Craft & Vision, "Finding focus. Understanding the camera's eye." by Nicole S. Young is just for you.
Nicole did a great job of gathering different tidbits of information pertaining to achieving the sharpness in an image in one concise e-book. Just 36 double page spreads is enough to share all the tips you ever need to know to create great images, meeting both creative and technical criteria. After all, photography require not only great light, but also the focus on the main subject to draw the viewers eye to it.
"Finding focus" goes from general, quite technical at times, information to more practical issues of proper focusing the lens for different type of photography- portraits, landscapes, food, to mention just a few. You will discover with Nicole the advantages of tilt-shift lenses, Lensbaby and even newest gadget- Lytro. There is also a section devoted to software- discussing both proper sharpening images using both Lightroom and Photoshop, and more advanced techniques like creating focus stacks to increase depth of field, and also creative ones- like intensionally introducing blur into final composition with plug-ins for more selective focus.
There is one subject I find missing form "Finding focus" is a discussion of various focus modes and focus points in modern dSLRs. This is something a lot of beginners (and even seasoned pros) struggle with. I understand that this information is easily accessible in owner's manual- but mentioning those options exists would be helpful!
Even without it, I think "Finding focus" is an excellent e-book devoted solely to advice on taking sharper, better images. I would recommend it strongly for all beginners, although probably a pros can find a tip or two they find useful.
If you are struggling with getting sharper, properly focus images, then "Finding focus" by Nicoloe S. Young is right for you. Don't wait, get it today for just $4, when you use the code FOCUS4 at checkout by clicking here.
While at it, look also at another e-book by Nicole at Craft & Vision – "(micro)Stock". Or explore other great photography related e-books in Craft & Vision ever growing collection. Remember, you can get 20% off when you purchase 5 or more e-books, by using the code FOCUS20.
However, don't wait too long, both codes expire at 11:59 pm (PST) on Sunday, August 19, 2012.

The links in this post are affiliate links. See details of our affiliate policy here.